What's Biting Report: The Spectator Sport of Big Game Fishing
July 11, 2014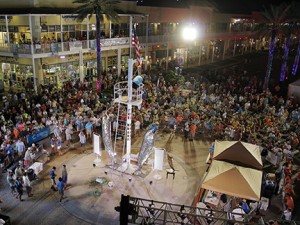 When I walk onstage at The Wharf, I feel like a rockstar. Who wouldn't with nearly 10,000 screaming fans, two huge LED projection screens, camera operators following your every move, and a microphone that allows you to tell your story to all who
are in attendance. I'm sure every performer at The Amphitheater at The Wharf has felt this way.
Country singers and rock and rollers get this experience at every stop on tour. Big game fishermen only get it at one place - the Blue Marlin Grand Championship at The Wharf. Captain Ron Woodruff of A Work of Art had that rockstar moment in 2012 when his team won the inaugural tournament in Orange Beach: "That feeling of bringing your fish up in front of a huge crowd is what makes this tournament so special." The two nights of weigh-ins are as much about the crowds as it is the tournament teams.
Last year, the crowd saw a record that had been in place since 1989 broken, twice. The Alabama blue marlin record of 779 pounds stood for twenty-four years. In one historic evening, it was broken twice in one hour and twenty-four minutes. Rising Sons brought in a new record with a 789 pound fish. Everyone in attendance watched the historic moment. Then a short time later, they did it again as Chris Ferrara and his crew on Reel Fire hoisted up an 845 pound blue marlin to break the recently set state record.
One spectator, Mary Story, later reflected on attending her first ever big game fishing tournament: "I never dreamed watching a fishing tournament could be so exciting. And it wasn't just the luck of seeing two records broken in one night. There was also something alluring about the classic Man vs. Beast story: The latest technology and the most skilled fishermen pitted against the powerful and elusive blue monster. It's a contest any sports enthusiast could appreciate."
This weekend Main Street at The Wharf is transformed into viewing party as the crews bring their fish to the weigh scale. Giant video screens show footage from boats and the tournament helicopter. Anglers recap their battles as they are interviewed providing fans with insight to their weekend on the water.
Weighed blue marlin are taken into the crowd on a cart so fans young and old can get an up close look at the majestic creatures. An onsite scientist gathers tissue samples from the fish that are later sent to two different universities for studies. Each blue marlin is also donated to a local charity that feeds those less fortunate in Mobile.
Teams will make their long runs of one hundred to more than two hundred miles into the Gulf beginning Thursday afternoon competing for more than $1,000,000 in prize money. The weigh scale will be open from 7:00 -10:00 PM on Friday and on Saturday night from 5:00 -10:00. Saturday night's events will also be broadcast live on the NBC affiliate Local 15 TV from 6:30-8:00PM. There is no charge to attend the weigh-ins.
Topping last year's epic night will no doubt be a challenge. What could best two state records in one evening? Alabama has never had a one-thousand pound blue marlin weighed. Maybe this is the year someone puts a 'Grander' in the Blue Marlin Grand Championship. That would be an encore rockstar moment for both the angler and the spectators.