Be the Virtual Tour Guide for FanGuide Bloggers, Nov. 14-17
Gulf Shores & Orange Beach
November 6, 2015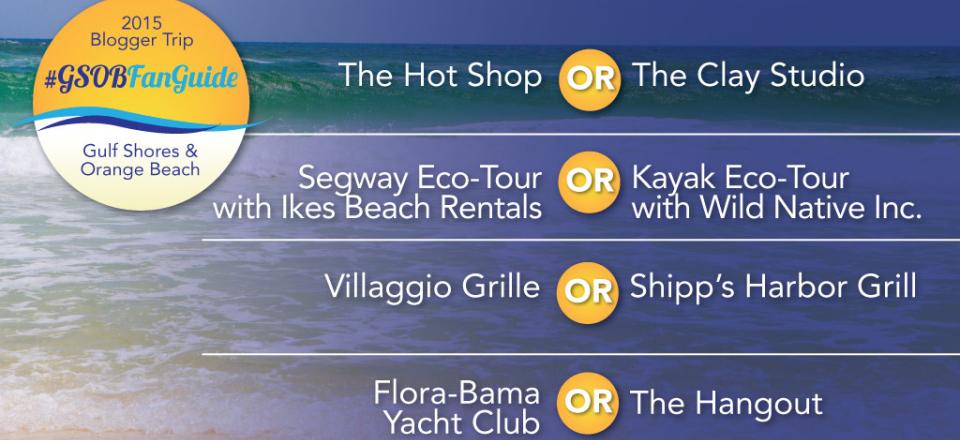 Are there activities you want to experience or places you want to eat in Gulf Shores and Orange Beach, but would love to hear another person's experience? You'll have that chance during #GSOBfanguide, Nov. 14-17. During #GSOBfanguide, two bloggers willdiscover a few of the many treasures on Alabama's white-sand beaches.
Sara Broers of Travel with Sara and Donna Hup of DonnaHup.com will be your explorers during the trip. Who decides what treasures they will uncover? You! You're the virtual tour guide, determining where Sara and Donna go and what they will experience in Gulf Shores and Orange Beach. On Saturday, Sunday and Monday on our Facebook page, as well as on Twitter and Instagram, we will give you two choices and ask you what activities the pair should do and where they should eat during their trip. You can cast your vote for your favorite spots or the spots you want to hear more about. The choice is yours! Be sure to use #GSOBfanguide in your comment so your vote will be counted.
Over the course of the four-day adventure, there will be a lot to choose from. Some of the voting selections include:
Segway Tour with Ike's Beach Service or Kayak Tour with Wild Native Inc.,, Vote: Sat., Nov. 14, 2-4 p.m.
Flora-Bama Yacht Club or The Hangout, Vote: Sun., Nov. 15, 9-11 a.m.
Villaggio Grille or Shipp's Harbor Grill, Vote: Mon., Nov. 16, 1-3 p.m.
The Hot Shop or The Clay Studio, Vote: Sun., Nov. 15, 2-4 p.m.
Sara and Donna will also get to experience a day at the Gulf State Park Pier and  the Hugh S. Branyon Backcountry Trail, as well as dining at Beach House Kitchen and Cocktails, The Southern Grind, King Neptune's Restaurant, LuLu's and more. They will also enjoy the hospitality of Vacasa of Alabama at The Lighthouse in Gulf Shores. It's going to be an adventure-packed week on this fall's #GSOBfanguide! Be sure to keep an eye on our Facebook, Twitter and Instagram pages and follow along with #GSOBfanguide.
How to Vote
Voting is easy! On Facebook, select the post asking for votes and comment on that post with your answer and the hashtag: #GSOBfanguide. On Twitter, you must cast your vote using #GSOBfanguide in your tweet. On Instagram, follow @gulfshoresorangebeach and find the voting post. Comment with your selection and use #GSOBfanguide.