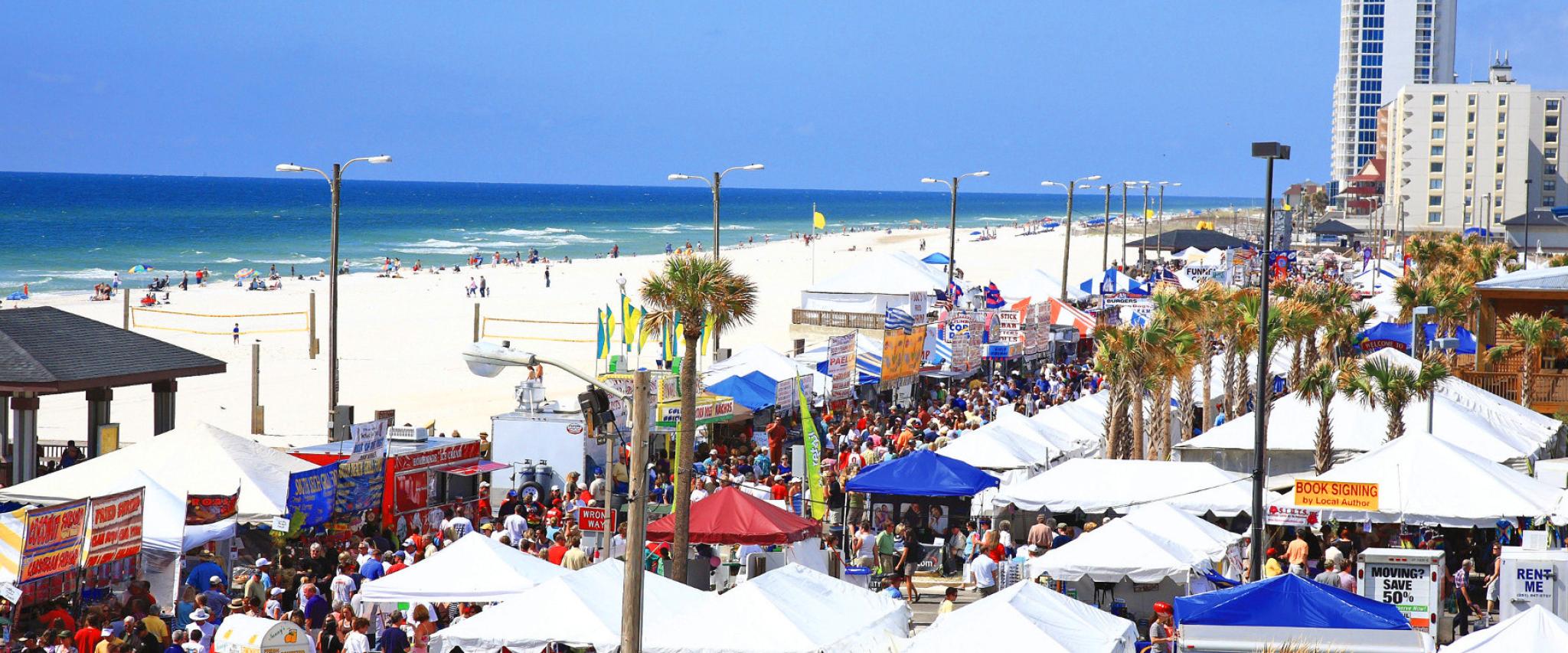 9 of the Best Fall Events in Gulf Shores and Orange Beach
Everyone knows Alabama's beaches provide the ultimate in summer vacations, but fall is a special time in Gulf Shores and Orange Beach, as well.
July 8, 2019
Nationally known festivals and even community events coupled with great weather make fall a fun time to visit the beach. We've rounded up a few of the top events between Labor Day and Thanksgiving that are well worth making a break for the beach this fall season.
52nd Annual 2019 Mobile Big Game Fishing Club Labor Day Invitational
Aug. 29-Sept. 2
Observers and anglers are welcome to participate in this exciting weekend full of big game fishing competition.
2019 Brett-Robinson Alabama Coastal Triathlon
Sept. 7
The Brett-Robinson Alabama Coastal Triathlon begins early Saturday morning on Gulf Shores Public Beach. Starting with a 1.5k swim in the Gulf of Mexico and followed by a 40k bike ride through the beautiful Gulf State Park, this event is complete after a 10k scenic run. Perhaps the "Tri-It-On" is for you—a 300-yard swim, a 9-mile bike ride and a 2-mile run. Afterwards, join the after party and awards ceremony at The Hangout.
The 16th Annual John L. Borom Alabama Coastal BirdFest
Oct. 2-5
Baldwin and Mobile Counties are the sites of prime real estate to see migratory birds during this annual event. Attracting visitors from more than 27 states and Canada, visitors love this birding and nature festival. You'll find unique opportunities to see not only birds, but also alligators, wildflowers, dolphins and more, all while learning about their natural habitats.
48th Annual National Shrimp Festival
Oct. 10-13
This nationally known seafood festival attracts more than 300,000 folks annually for food (of course), live entertainment, vendors, races and activities for the kiddos. The festival is held on the main Gulf Shores Public Beach.
Known Deaths and Burials at Fort Morgan
Oct. 23-26
A fun event for visitors and locals alike is the candlelight tour through the brick tunnels of Fort Morgan. Historical interpreters dressed in period clothing will be located throughout the Fort offering living history tours. Please note tours will be guided across uneven surfaces in dark areas, and you many encounter wildlife.
11th Annual Oyster Cook-Off & Craft Beer Weekend at The Hangout
Nov. 1-2
Kick off the weekend with the Oyster Cook-Off & Craft Beer Weekend at The Hangout. On Friday evening, sample craft beers from 30 breweries, as well as live music. The Oyster Cook-Off on Saturday offers a multitude of oyster preparations from chefs coming from all over the country. Don't miss the cooking demonstrations and workshops during the day. There's even an oyster shucking contest and Bloody Mary Invitational.
35th Annual Frank Brown International Songwriters' Festival
Nov. 7-17
This annual event, named for the late Frank Brown who was the night watchman at the Flora-Bama for 28 years, attracts more and more folks each year. Held across multiple venues at different times, you'll want to do a little homework before heading out to ensure you don't miss your must-sees. Known for up-close and personal concert experiences, it's great to hear the stories behind the songs straight from the original songwriters themselves. Most venues are free or charge only a small cover charge.
2019 Blue Angels Homecoming Air Show
Nov. 8-9
The Blue Angels will fly on both Friday and Saturday around 2 p.m. for the annual Homecoming Air Show. Don't miss a performance unlike anything you've ever seen. This event is held at the National Museum of Naval Aviation in nearby Pensacola.
2019 Kaiser Realty by Wyndham Vacation Rentals Coastal Half Marathon and 5k Run
Nov. 30
This year marks the 12th for Kaiser's annual coastal marathon events. Bring the family and enjoy everything from a one-mile fun run to a 5k run or a half-marathon. Participants will enjoy the scenic, paved trails meandering through the Gulf State Park followed by a post-race party at the Orange Beach Sportsplex.
Browsing the special offers online is a great way to find affordable lodging, as well as discounts on attractions and restaurants.