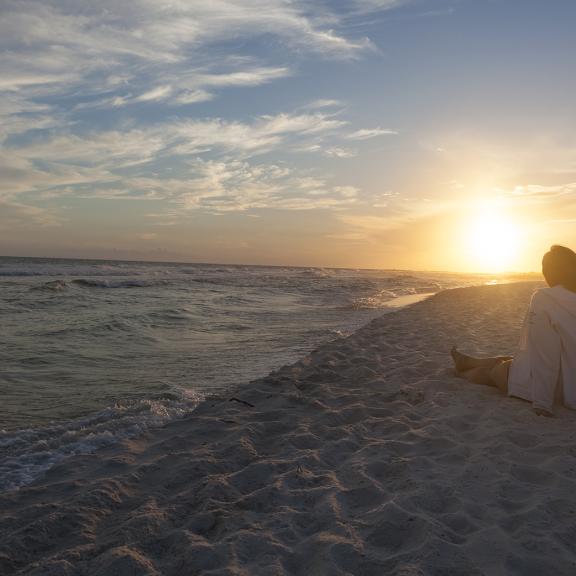 Five Ways to Stay Warm in Gulf Shores and Orange Beach This Winter
Winter is one of the most magical times of the year, especially when you're lucky enough to spend it on the Alabama Gulf Coast.
August 22, 2020
"A beach in the winter?" You may find yourself asking this question when looking at booking a winter sports event on the Alabama Gulf Coast. However, you may be surprised to find that Gulf Shores and Orange Beach have very mild winters and plenty of activities to keep you warm.
Why is a mid-winter trip to Gulf Shores and Orange Beach just what the doctor ordered? Keep reading . . . 
1. Warm days in Gulf Shores and Orange Beach last well into the winter. In the height of the day's heat, between noon and 4:00, you can comfortably soak up the sun's rays. And if you're brave enough, take a quick-but-refreshing dip in the water.
2. Feel like getting in touch with your artistic side? Book a class with Sand Castle University and take advantage of cooler weather by focusing on the details of your sandcastle without breaking a sweat.
3. You don't have to look far to find a fireplace. The Lodge at Gulf State Park and the Gulf State Park Pavilion both offer large and lovely fireplaces for a picturesque and comforting winter scene. Beach bonfires require a permit, but you can often find a public beach bonfire organized by Gulf State Park and Perdido Beach Resort.
4. Running the beach and training for your sport will be much more pleasant in a mild winter than during the thick heat of summer - trust us! Playing sports in our southern humidity can be a challenge during the warmer months, so take advantage of winter's crisp breezes.
5. Feeling antsy, but want to play indoors? Book an experience at the Waterville USA escape room, or spend some time in their Starcade.
There's no bad time to be at the beach! We're looking forward to your visit with us in Gulf Shores and Orange Beach and can't wait to hear about all you enjoyed while here. Stay in touch with us on social media by using the hashtag #GSOBsports!