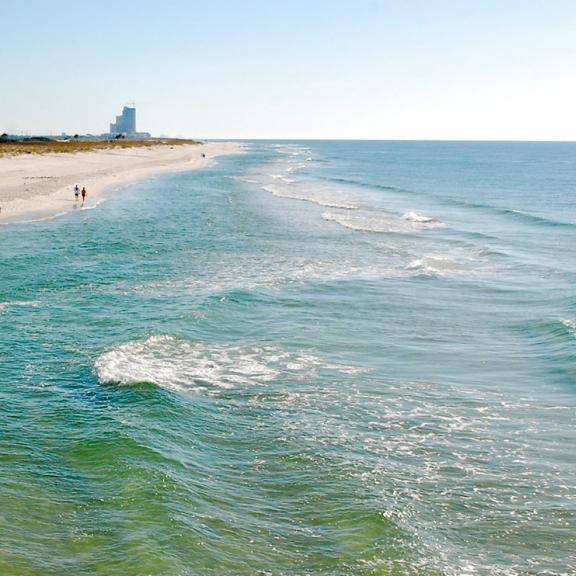 How to Spend Two Days at the Beach During the Off Season
It's no big secret that summertime is peak season on Alabama's beaches.
June 11, 2019
From spring break through Labor Day, beaches are gorgeous and filled with families enjoying the sun and surf. That time frame also brings slightly longer waits at your favorite restaurants and attractions. Even so, the beach is calling and vacationers heed the call for sunshine, relaxation, frozen concoctions, paddleboards and seafood.
And then there is this thing called the off season or shoulder season. It's a less crowded time when weather still permits outdoor recreation, restaurants still serve the same amazing shrimp, and sunsets still paint the evening skies. This season is perfect for long weekends away or celebrating life events. But how do visitors spend only a couple of days at the beach during the off season?
Brunch is a great way to begin any beach day, but especially in the off season. Often there are daily specials and there's not likely a large crowd. Check out great brunch spots like The Ruby Slipper Café where Southern dishes are served with a New Orleans flair. Remember, choosing brunch often means one less meal to pay for since breakfast and lunch are combined.
Enjoy a round of golf at any of our beautiful coastal courses. Tee times are now easier to arrange than during summer, and the off season may also provide a better opportunity to fine tune your game by taking a lesson with a PGA pro at an award-winning course such as Kiva Dunes.
The Clay Studio at the Coastal Arts Center of Orange Beach offers opportunities to work under resident ceramic artist Maya Blume-Cantrell. Try your hand at throwing on the pottery wheel or glazing, or choose the pick-n-paint option. Browse the 10,000-square-foot fine arts gallery and the gift shop, then book a birthday party or a special event.
Check out Cobalt the Restaurant just under the Perdido Pass Bridge. The waterfront dining gem offers fantastic service, amazing cuisine and a lovely ambiance. They also utilize outdoor heaters during the off season, allowing guests to take advantage of beautiful but cooler beach nights.
Start your day at The Wharf with a breakfast visit to The Southern Grind Coffee House for specialty coffees and breakfast eats. It's right in the middle of shopping, making this a perfect choice to then walk off calories and meander through unique stores. The Wharf is an entertainment mecca with numerous activities from miniature golf and ziplining to watching the boats at the marina and riding the Ferris wheel. Lunch and dinner are easy thanks to several onsite restaurants, and a movie theater (a rainy-day treasure) and Fusion Spa right on the main strip beckon you for a bit of relaxation before continuing your adventure. You literally could spend all day (and night) at The Wharf.
Should you venture away from The Wharf, consider the Alabama Gulf Coast Zoo, where getting up close and personal with the animals is totally normal. Choose encounters with sloths, kangaroos and lemurs, and be entertained as well as educated via their exhibits and educational talks regarding animal habits and habitats.
Many resorts, condo buildings and hotels have heated indoor pools and/or ,hot tubs available. Fitness centers are usually onsite as well, and some even have a game room. Don't skip those resort amenities, as sometimes the best memories are made right under your nose.