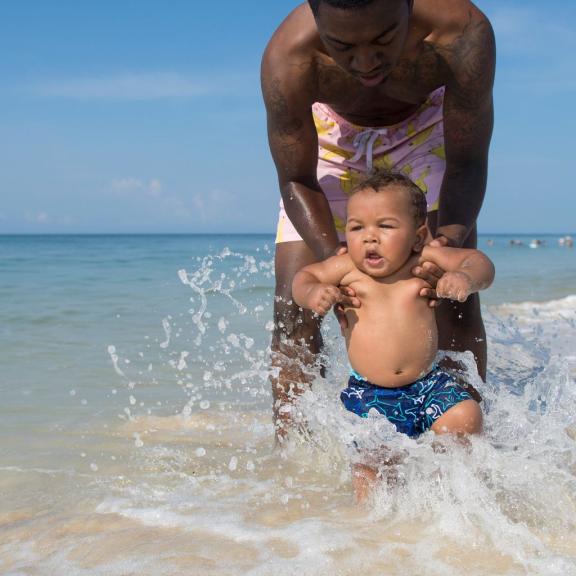 Baby's First Beach Trip
In Gulf Shores & Orange Beach
April 12, 2023
Gulf Shores and Orange Beach are the perfect family-friendly destinations. Our area has something for everyone to enjoy, even the littlest ones in the family. We've compiled everything you need to know before your baby's first beach trip to the Alabama Gulf Coast. From what to bring to where to eat and the best spots to visit, check out these tips!
Where to Get Beach Toys
Several public beach access points have toy boxes where beachgoers can freely leave and take toys to enjoy on the water. You can also pick up beach toys at various local grocery stores in the area. We suggest leaving stuffed animals, battery-operated toys, and any of your baby's favorites inside so they don't risk damage from the sand or water.
Stay Hydrated & Avoid Overheating
It's important to stay hydrated since coastal temperatures can really heat up in the summer. It's always good to have water on hand while in the sun, so bring a cooler packed with cold drinks and snacks. One of the best ways to keep your baby cool is to pack frozen fruit or ice pops in your cooler. We also suggest adding an insulated tumbler with milk to your cooler, along with water and juice. Another great item to bring to avoid overheating is a battery-powered fan.
Other Baby-Friendly Things to Do
Our area is also home to lots of fun activities off the beach. The Alabama Gulf Coast Zoo is the perfect place for a family outing. Paved sidewalks line the exhibits, so you can easily push a stroller around as you check out all the exciting animals. Speaking of extraordinary creatures, the Nature Center hosts several local animals and plant species and offers visitors insight into flora and fauna of the Gulf Coast. Your little one will love getting an up-close look at some of the native wildlife. 
Another fun spot for babies and young children is the splash pad in front of TJ Maxx at the Tanger Outlets in Foley. This free splash pad is open to anyone and includes benches and shaded areas. If you prefer to stay on the island, Surf Style #202 in Orange Beach has a complimentary splash play area outside its store. Additionally, both  Gulf Shores and Orange Beach have public playgrounds with picnic areas, tables, and paved sidewalks.