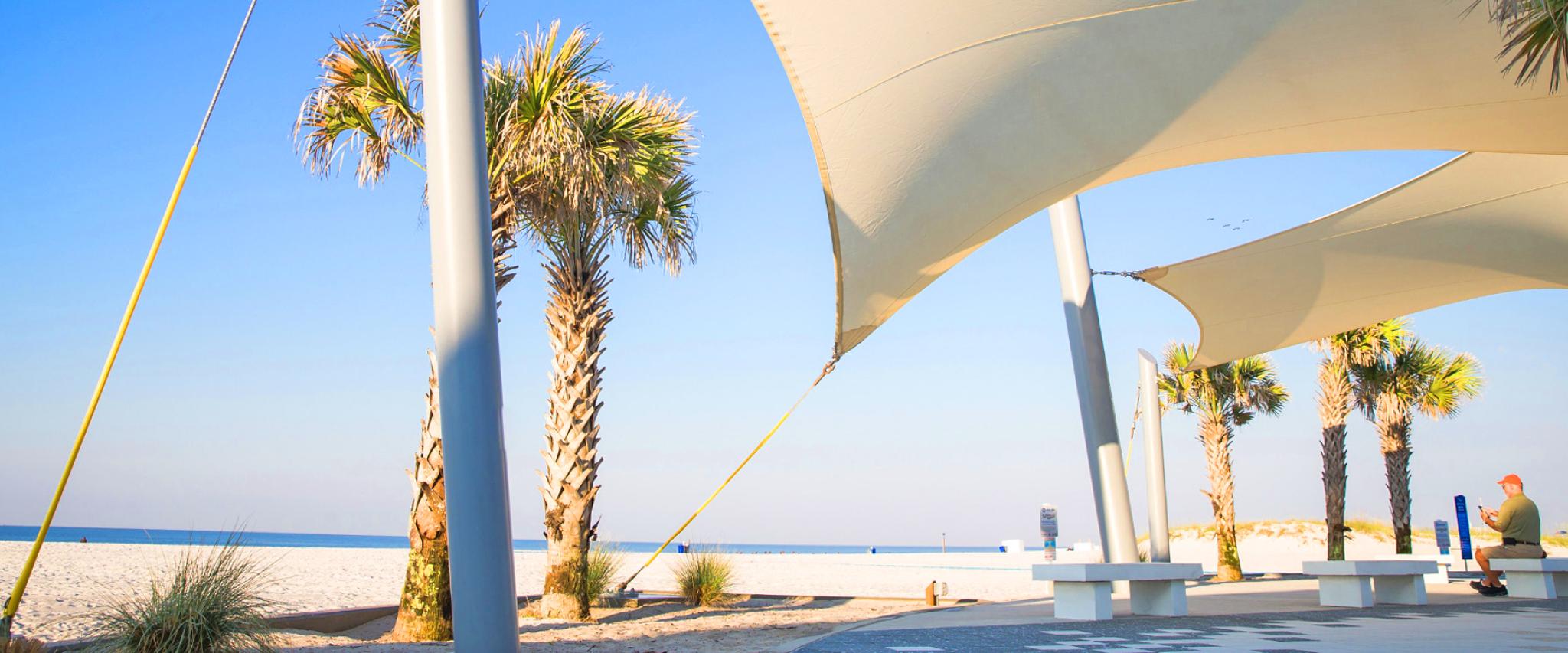 14 Public Beaches On The Alabama Gulf Coast
Start planning your beach destinations with our help!
July 8, 2021
With 32-miles of white-sand beaches for you to discover, you may need a little guidance on where to begin. We've put together a list of 14 public beaches found along the Alabama Gulf Coast that are readily available for you. Get insight into their locations and the amenities that can be found at beaches in Gulf Shores and Orange Beach.
4. The Gulf State Park Pavilion Area is located six miles east of Highway 59 and offers a beach pavilion with air-conditioned restrooms, private showers, a snack bar, shady spots to sit and eat, plus a large fireplace for chilly days.
5. Gulf Place (Gulf Shores Main Public Beach) is located where Alabama Highway 59 dead-ends. There are beach attendants, three open-air pavilions, a picnic area, plus restrooms and showers onsite. This is a good spot for volleyball playing and beach bar hanging plus the City of Gulf Shores has four beach mats for easy access to this stretch of beach. Arrive early to get a prime spot in this popular hangout.
6. Gulf Shores 2nd Street Public Beach is just two blocks west of Highway 59. Facilities include a handicapped-accessible restroom, outdoor shower, and a covered pavilion with picnic tables.
7. Gulf Shores 4th Street Public Beach offers only pedestrian crossing beach access, perfect for those staying at nearby properties.
8. Gulf Shores 5th Street Public Beach is located five blocks west of Highway 59 with parking on the north side where the boardwalk leads to the beach. Also, parking is available on the south side beside Bahama Bob's.
Accessibility
Accessibility is of great importance to the City of Gulf Shores, and great strides are being made to accommodate as many guests as possible to beach areas. Beach Access Mats are an integral part of this inclusion and are placed just short of the water's edge, allowing wheelchair users to get as close as is safe to the water. Access Mats can be located at the West End of the Gulf Place Public Beach parking area at West 2nd Street and at the East End of Gulf Place Public Beach near the Pink Pony.
Extra Extra
Need more activity-fueled fun while you're visiting the Alabama Gulf Coast? Check out this extensive list of things to do in Gulf Shores and Orange Beach to help fill up your itinerary while visiting.
A great resource for planning the perfect beach trip is the FREE Vacation Guide. Download it or request in print by visiting the planning section of the website. There are additional brochures on this site to help you with particular topics such as fishing, scenic byways, motorcycle runs, golf and more!