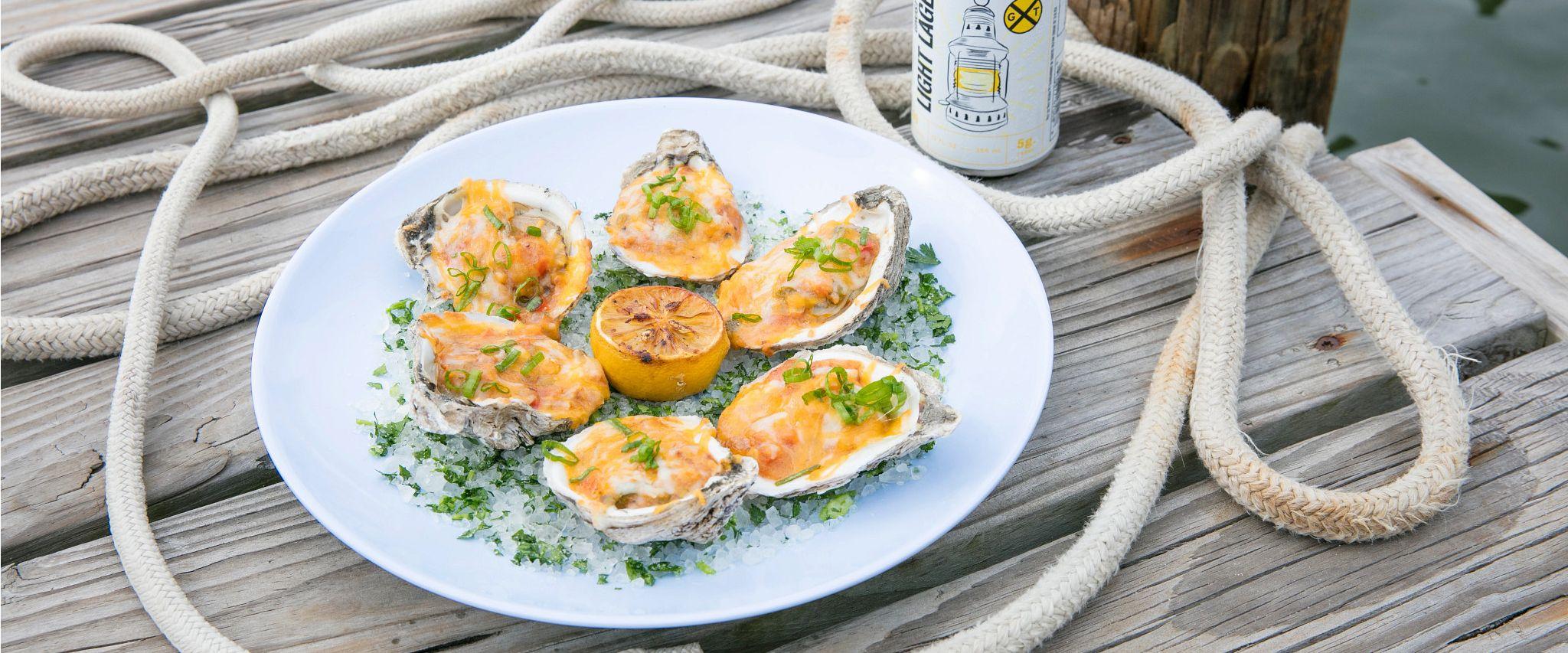 Travel Blogger: 11 Appetizers I Crave in Gulf Shores and Orange Beach
One of the main reasons I love visiting Gulf Shores and Orange Beach is the food.
January 20, 2021
Shannon's Favorite Seafood and Comfort Food Apps
Comfort Food Appetizers
Luna's Eat and Drink is one of my favorite spots to hang out and enjoy some craft beer and appetizers. Their Tomato Pie appetizer is a little like pizza – but in a buttery pie crust! It's made with vine-ripened tomatoes, sweet onion and fresh basil, and topped with a delicious blend of mayo and hot, bubbling cheeses. And it's all baked in a flaky pie crust that makes this the ultimate comfort food.   
The Gulf is one of those restaurants that just makes you feel at home. Whether you are sitting at their outdoor bar, on one of their couches on the sand, or a picnic table with the family, grab a couple orders of their hummus and you won't be sorry. Their fresh, soft pita chips/bread are really what puts this appetizer over the top.
Shannon's Favorite Cheesy and Unique Apps
Unique Appetizers
How about a breakfast appetizer? I'd never seen a "starter" menu for breakfast, but the Brick & Spoon has one. Their "Bananas in Pajamas" - crispy banana egg rolls served with fosters sauce – are perfection with your first cup of coffee. 
For something upscale, get the Ostrich Carpaccio at Voyagers at Perdido Beach Resort. This appetizer is served with capers, shaved Parmesan, crispy shallots, and whole grain mustard for an amazing culinary experience. 
If you're looking for a vegan choice, check out the Korean Fried Broccoli at Safari Club at the Alabama Gulf Coast Zoo! As Alabama's first certified "Green Restaurant," they have a full line of vegetarian and vegan offerings as well other offerings. Vegetarians – don't miss their amazing Crunchy Goat Cheese!
Are you hungry yet? Well print this list out and check off some of these delicious, crave-worthy appetizers on your next visit to Gulf Shores and Orange Beach!