Combine Beach Meeting with July 4th Celebrations
May 21, 2015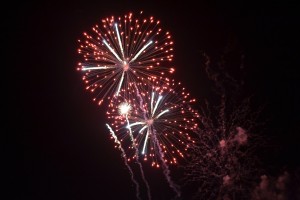 As fireworks light up the sky over the Gulf of Mexico, you can rest in your beach lounger or on your balcony and enjoy the light show. It's the Fourth of July on the Alabama Gulf Coast, and the living is easy. If you're attending a Gulf Shores or
Orange Beach meeting or convention, you're in luck. There's plenty to do when you're not at your event.
Independence Day activities in Gulf Shores and Orange Beach are as varied as the shells along our shores. Love history? Get to Fort Morgan for its Salute to American Independence. The festivities begin at 9 a.m. with historical interpreters dressed in period uniforms of the U.S. Army. Interpreters will conduct guided tours of the fort throughout the day. There will be demonstrations of small arms, artillery and other challenges faced by the garrisons at Fort Morgan.
Enjoy a good run? Get your adrenaline going early and work off your Fourth of July burgers at the Shark Adventure Run at Flora-Bama Lounge and Package. There is a 2-mile road/2.5-mile beach adventure run, as well as a one-mile adventure run.
Spend some time relaxing on the beach and enjoying the lap of waves at your feet. Take a dip in the clear waters of the Gulf of Mexico, then head off to a great dinner at a Gulf Shores or Orange Beach restaurant. Or man the grill on the premises at your beach condo, usually near the pools, while the rest of your group splashes in the water or soaks up the sun.
Grab your spot on the sand or the balcony of your condo to watch the fireworks light up the sky over the Gulf of Mexico. At approximately 9 p.m., a fireworks show will light up the sky in Gulf Shores. Viewing areas abound – whether on the beach or from your hotel or condo, you'll find great spots for viewing all along the beach.
For more Fourth of July weekend events in Gulf Shores and Orange Beach, be sure to check our calendar of events often.