Travel Bloggers Choose Top Picks for Best Beach Appetizers
Wondering what the fan favorites are for the best beach appetizers in Gulf Shores and Orange Beach?
October 21, 2015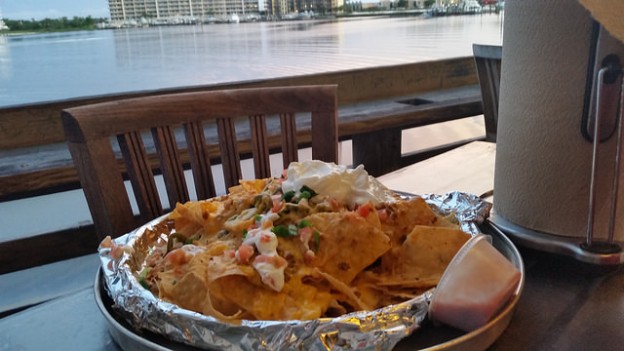 Four travel bloggers share their top picks. What are your favorite appetizers from Alabama Gulf Coast restaurants?
"The chips and salsa from LuLu's is AMAZING. The cheese sauce that comes with it is delicious as well. It is a huge portion at a very reasonable price." – Jennifer Sikora, Jenn's Journey
"My husband and I absolutely LOVED the Greek Shrimp Nachos we had recently for lunch at the Flora-Bama Yacht Club! They were delicious and quite unexpected. We've had our share of nachos, but these had an amazing flavor." – Jamie, BlondeMom Blog. Read all about Jamie's Flora-Bama Yacht Club dinner on her blog.
"This is an easy one! Tacky Jacks Garbage Nachos. Huge appetizer, enough for a group to share or dinner for three!" – Karen Dawkins, Family Travels on a Budget. See Karen's account of her Gulf Shores and Orange Beach adventure in her blog.
"I have two favorites! The Firecracker Calamari at the Flora-Bama Yacht Club and the Mountain of Fried Okra with ranch dipping sauce at LuLu's." – Becky Beall, The Travel Voice by Becky