What's Biting: Getting Ready for the Season's First Offshore Trip
March 23, 2016
It seems most of us fishermen obsess over the weather this time of the year. Ok, we can all admit it, we obsess over the weather all year! Right now we are just hoping to find a day when we don't have to work and the weather cooperates so we can finally go fishing. We've all had enough cool, even cold weather and please no more north winds. We tell ourselves and our fishing partners that we could be ready to go at a moment's notice, but are we actually ready?
At the end of every fishing season, there is list of things we have to do before our next offshore adventure. The good news is fish are being caught offshore. The cobia will be making their annual appearance any minute now along our beaches. The opportunity to make the first trip of the season could present itself any day.
The bad news is if you haven't completed your list from last season, time is running out. Back in November of 2015, I implored you to get your reels serviced at the end of the fishing season, so you didn't get caught in the backlog of those who wait until spring.
[caption id="attachment_6532" align="alignright" width="300"]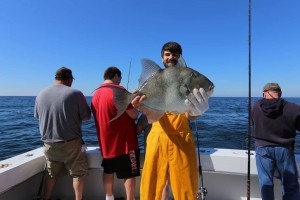 "A nice triggerfish caught on the High Cotton earlier this month out of Orange Beach."[/caption]
"We did have a lot of people who took your advice and brought in their reels to be serviced during the winter months," said Blake Michaleski of J & M Tackle in Orange Beach. "But of course, now is when those who didn't are bringing in their reels because the weather is getting nice. It's not too late, but the sooner you get them to us, the quicker we can turn them around so you don't miss any days on the water."
What good are finely tuned reels if your boat isn't ready to safely get you offshore? If your boat is in need of service, call your favorite mechanic, not tomorrow or next week, do it today! Once your boat is ready to go, it's always a good idea to go on a 'Shakedown Cruise' before heading offshore.
Make the usual first trip of the year inspections. Check your fuel filters and water separators as sometimes a small amount of water will collect in them over the winter months (I just drained mine last week). Make sure all of the electronics are working, the batteries will crank and hold a charge, and all your safety gear is ready, accessible and not expired.
When you do get offshore, the triggerfish bite has been fantastic according to Captain Chris Garner of High Cotton Charters in Orange Beach. "When we have been able to get out, we have been loading up on triggerfish." Cutting bait with a small sharp hook is always the best combination to catch those notorious bait stealers. Captain Garner also said the Amberjack bite has been decent, and it should remain so until the announcement of the closure of the season.
I hope you are ready, because I see a good weather window coming soon!