What's Biting: Long Live the King
August 4, 2016
The king is here on the Alabama Gulf Coast. Long live the king.
Of course, I'm talking about tarpon, the silver king. Each summer this ultimate nearshore game fish migrates to its northern range and inhabits the Gulf waters within site of the Alabama beach.
Anglers from Perdido Pass to Dixey Bar have seen schools of tarpon "rolling" along the beach in search of menhaden and alewives. Rolling is when the fish come to the surface and then submerge again.
Naturally, there are a dedicated group of fishermen who love to take advantage of this
[caption id="attachment_7141" align="alignright" width="189"]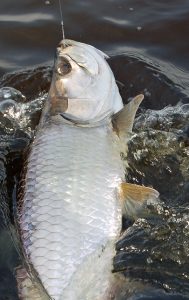 Tarpon[/caption]
summertime phenomenon. Mike Ros is one such angler, and he heads to the Gulf beaches every chance he gets to search for rolling schools of tarpon.
Being a tarpon anglers means being ready for an epic battle. Most of the fish that migrate to the Alabama Gulf Coast are at least 60 pounds and often heavier than 100 pounds. A few smaller tarpon may be found in estuaries but not many. Anglers on the Gulf State Park Pier will often spot and sometimes hook tarpon this time of year, but they aren't allowed to land the fish on the pier.
When Ros and his fishing buddies spot a school, they throw the outboard in gear and race at least 200 yard past the direction the school is headed.
"I have hooked them with the motor running, but the best thing is to shut the motor off and drift," Ros said. "If you anchor, you need to have a float attached to the anchor so you throw all 200 yards of rope overboard if you get a hookup. And they're real skittish. I've seen them run away from a sonar or baitwell pump. We cut the bottom machine and all the pumps off when we spot a school."
Chum is tossed out in hopes of prompting the tarpon, which are notoriously finicky, to feed. Ros and his buddies then deploy an array of baits in the chum slick to try to entice a strike from live menhaden or alewives under balloon rigs to chunks of menhaden fished on the bottom.
Ros uses 6-8 feet of 100-pound leader in monofilament or fluorocarbon because tarpon don't seem to be leader shy. He recommends using spinning equipment with a 7- to 8-foot rod and a sturdy reel capable of holding 300 yards of 20-pound monofilament, which he prefers over braided line because it stretches. He prefers Penn 706 or Van Staal reels for durability and strong drag systems.
As with most tarpon anglers, Ros uses large circle hooks, 14/0 to 16/0, for tarpon.
"When they pick up a bait, I aim the rod tip at them and let them peel 30 yards off," he said. "That circle hook will move up and lodge in the corner of the jaw. When that happens, they come out of the water."
As they say with all monarchy, when the tarpon leaps majestically out of the water, it's time to "bow to the king."