The HOLE Story: Kiva Dunes Hole No. 2
April 5, 2018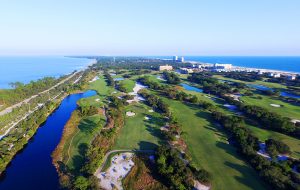 For golfers, a visit to Alabama's beaches is about more than white sand - it's about a lush, green fairway, too! Golfers of all skill levels will appreciate Kiva Dunes in Gulf Shores. This championship course was designed by golf great and U.S. Open Champion Jerry Pate. Kiva Dunes has been the recipient of numerous awards, including being ranked number 58 in America's Top 100 Public Courses by Golf Digest.
Golfers can improve their game at Kiva Dunes with the help of their resident PGA golf pro, Rea Schuessler. With more than 25 years of experience, Schuessler offers private and group lessons, game analysis, nine-hole playing lessons and more.
How to Play the Hole
Hole No. 2 at Kiva Dunes Golf Course in Gulf Shores is the first of four par 5s. Schuessler says long hitters will be tempted to go for green in two shots. Average to short hitters should lay up to the right of the bunkers on the left side of the fairway.
For more Gulf Shores golf news, browse the golf section of our blog.