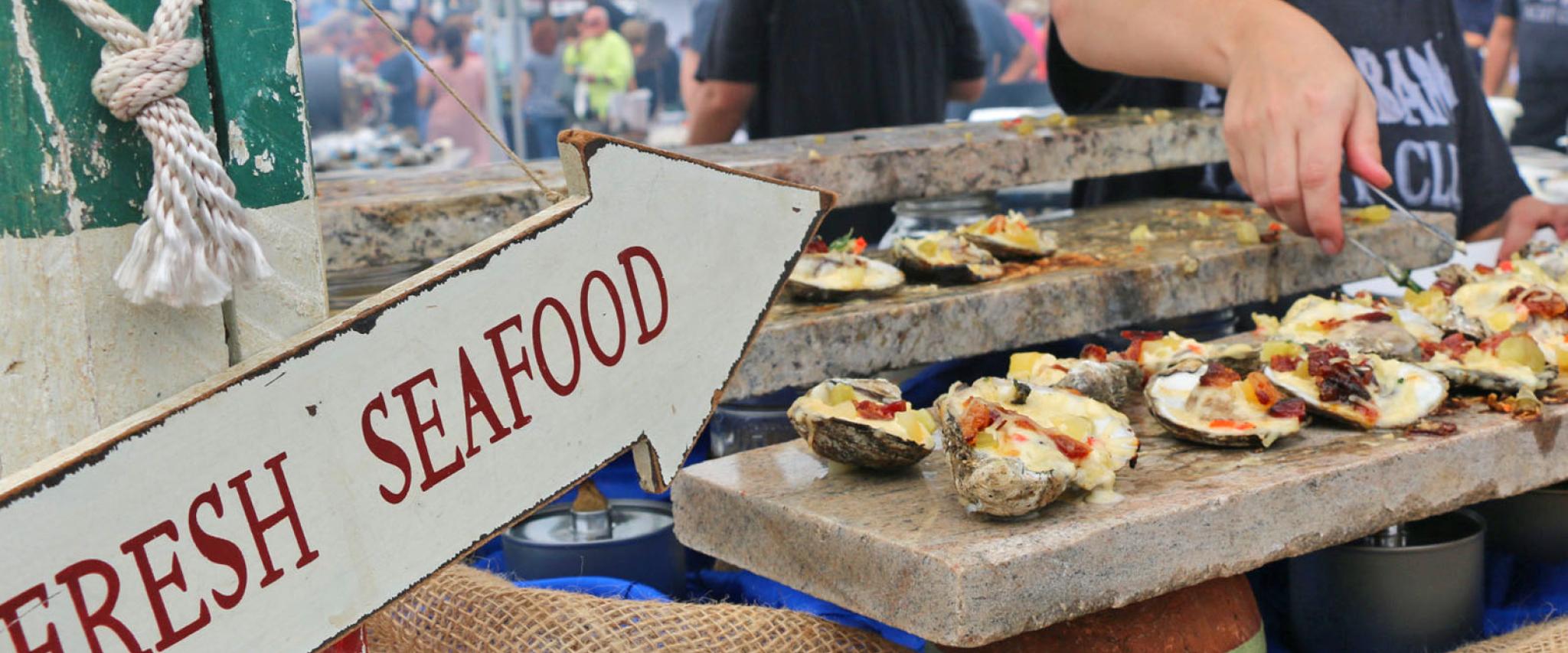 Well, it's not just about oysters. Sure, it's mostly about oysters, but there's also craft beer, cooking demos from award-winning chefs, live music and the Big Green Egg cookoff.
Craft Beer Festival will be held Friday, November 1 from 6 -11 p.m.
Enjoy tastings of dozens of craft beers and live music. The all-inclusive ticket includes samples from all of our craft brewers and live entertainment all night long. Admission is included with VIP tickets. Taste up to 60 beers from over 30 breweries.
Tickets are available for the advance price of $40. Your ticket includes specialty beers from all of our craft brewers, live music and our Brew B'que featuring a great lineup of chefs cooking up some of the best BBQ you've ever tasted.
WHAT KIND OF AWARD-WINNING CHEFS?
Food Network stars like Cory Bahr, Justin Warner, Carl Ruiz, Linkie Marais and host Martie Duncan are a few names you might recognize. You'll also find regional and local favorite chefs such as Chris Lilly of Big Bob Gibson BBQ, Pete Plohme of Panini Pete's, 2017 Alabama Seafood Cook-Off Winner Jeremy Downey of Bistro V, and Chris Rainosek from The Noble South just to name a few.
WHERE IS IT?
This event will be conveniently located adjacent to The Hangout in Gulf Shores. If someone in your group isn't really a fan of oysters, they can find a wide selection of offerings inside at The Hangout. You're also free to come and go as you please.
WHEN IS IT?
Friday, Nov. 1 from 6 p.m. – 11 p.m.
Saturday, Nov. 2 from 11 a.m. – 6 p.m.
NOVEMBER, AS IN COLLEGE FOOTBALL NOVEMBER?
Yes, but The Hangout has you covered. You can watch your favorite team in one of our sports viewing lounges.
HOW MUCH ARE TICKETS?
Tickets for the Oyster Cook-Off are $10, and children 12 and under are free. Admission includes food demos and workshops by some of the chefs listed above. Tasting Tickets will also be sold in booklets for a pre-sale discounted price of $30 for 15 tickets.
For $150 you can get the VIP experience which includes admission to the Friday Craft Beer Festival and Saturday Cook-Off as well as two tasting booklets, exclusive meet and greets, admission to a "Chef's Only" private after party on Saturday night, and some other fun perks.
WHAT IF IT RAINS?
A little rain won't stop the event! This is a rain or shine event.
SHOULD I MAKE PLANS TO ATTEND NOW?
Yes, absolutely! Make reservations early and check out hot fall lodging specials,