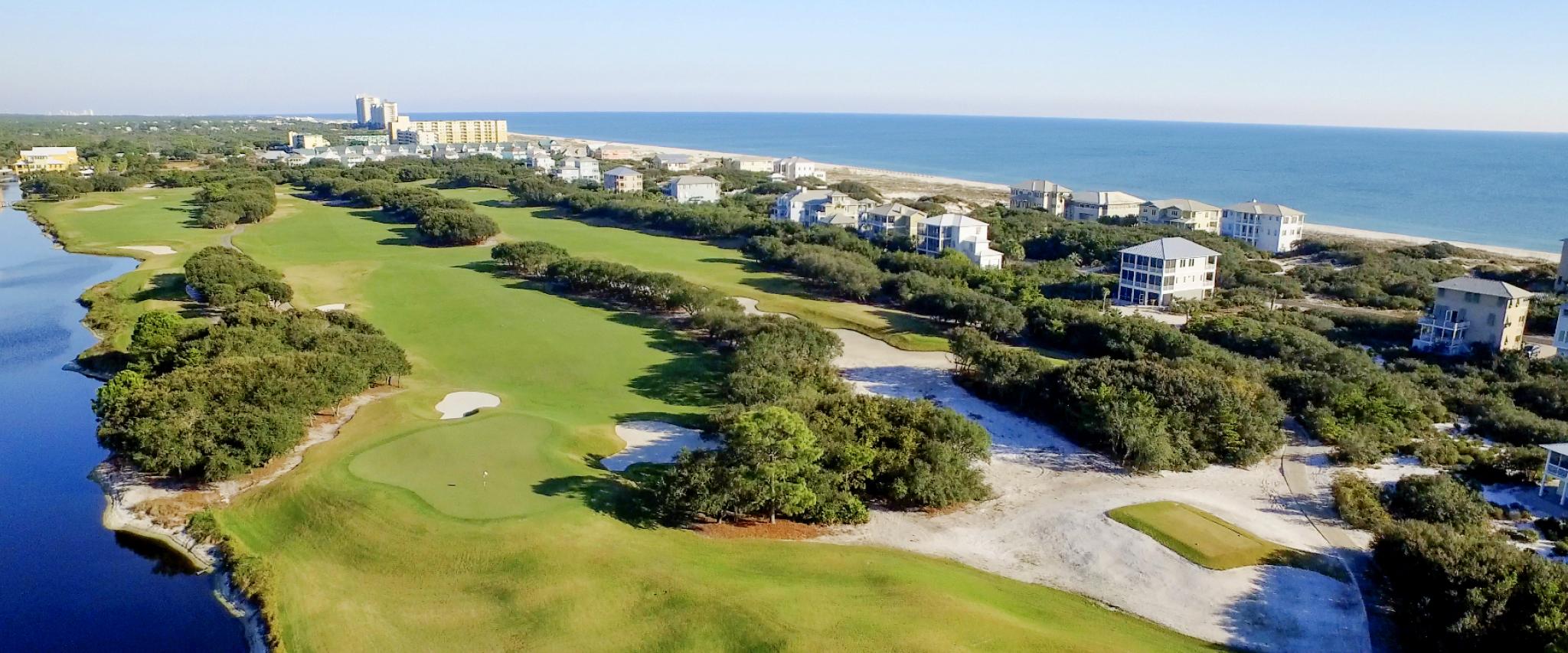 Golfing Your Way through Alabama's Beaches
A golfer's paradise…that's the term I would use to describe the amazing collection of golf courses along the Alabama Gulf Coast.
May 14, 2019
Whether you're an avid golfer or simply enjoy the social aspect with a few buddies, golfing along this stretch of coastline between Gulf Shores and Orange Beach is an experience you cannot help but fall in love with.
From the number-one golf course in the state of Alabama to a 27-hole golf complex that will challenge even the most competent golfer, Gulf Shores and Orange Beach is a golfing haven that I am always excited to experience. Let's take a look at some of the best courses along Alabama's beaches and perhaps you will be inspired to hit the links and test your skills.
Kiva Dunes
Voted number one in the entire state of Alabama and number 19 in the nation by Golf Advisor, it's no surprise that Kiva Dunes is the best place to start your golfing adventure on the Gulf Coast. Given that this is such a highly recognized course across the U.S., it's a pleasant surprise to hear the course is open to the public and a dynamic pricing system is in place to ensure every visitor has the opportunity to enjoy the course at an affordable rate.
A challenging yet rewarding layout, Kiva Dunes is a course that is always in immaculate condition and will test every golfer that tees up here. The lush fairways are a pleasure to play from and the undulating greens are challenging but always a fair test given their impeccable condition.
The signature 17th is perhaps one of the most challenging par 3's, not only in Alabama but across the nation, particularly if played from the back tees. As you stand on the tee box, the green is almost an afterthought as you cannot help but guide your eyes to the water lining the left side of the hole. Are you willing to take the risk and hit direct at the green or will you play it safe and hit to the right?
Kiva Dunes is a typical links-style course with plenty of exposed sand, generous sized fairways and large greens. The Gulf Coast climate adds an extra layer of complexity to the course, as you never quite know how strong the wind will be and you should always be prepared for a few local rain showers, aligning perfectly with the typical links conditions we associate with Scotland.
Peninsula Golf and Racquet Club
For those of you that prefer the resort experience, make your way to Peninsula Golf and Racquet Club to enjoy 27 challenging holes before heading over and sampling the onsite tennis courts. When it comes to golf courses in Gulf Shores and Orange Beach that are in excellent condition, there are none prouder of their status as being ranked in the top 10 best conditioned courses in the U.S. than Peninsula.
Located on the Fort Morgan peninsula between Mobile Bay and the Gulf of Mexico, Peninsula Golf and Racquet Club is full of beauty with breathtaking scenery epitomized by natural vegetation featuring live oaks and cypress trees, along with a myriad of local wildlife that you will frequently stumble across. Don't worry, the alligators likely won't steal your golf ball but the same cannot be said about the eagles in the area!
Craft Farms in Gulf Shores
When you visit a golf course designed by the great Arnold Palmer, you know you are getting ready to play a pretty special place, and Craft Farms in Gulf Shores is certainly no different. With 36 holes of championship golf, Craft Farms offers an eclectic collection of golf holes that together create two of the best courses in the South.
The various lakes that gently meander their way through the course provide both beautiful scenery and a challenging obstacle as you aim to overcome the test at both Cotton Creek and Cypress Bend. From the rolling hills and undulating greens at Cotton Creek to the distinctive wide fairways and coastal feel of Cypress Bend, both courses will test every golfer regardless of skill level.
Gulf Shores Golf Club
Gulf Shores Golf Club offers a combination of a gorgeous setting, a challenging golf course layout and a plantation-style clubhouse that will make the 19th hole the perfect environment to enjoy a well-deserved drink (or two) after an awesome experience on the course. Dating back to the 1960s when this course first opened, this historic course is home to a plethora of wildlife, so don't be surprised to see an alligator or two on numerous holes.
Glenlakes in Foley
For the ultimate Gulf Coast golfing experience, allow yourself to drift inland to the nearby town of Foley to enjoy Glenlakes Golf Club. This 27-hole course is home to both Vista Dunes (18 holes) and the resort-style Lakes (9 holes) course. Both are challenging, scenic and most importantly, affordable courses that every type of golfer will appreciate and enjoy.
Orange Beach Golf Center & Driving Range
After playing a collection of courses along the Gulf Coast, perhaps you will be ready to hit the range and fine-tune your fame. Head over to Orange Beach Golf Center and Driving Range to enjoy a leisurely round on the 9-hole par-3 course, before spending some time on the lighted driving range and practice areas.