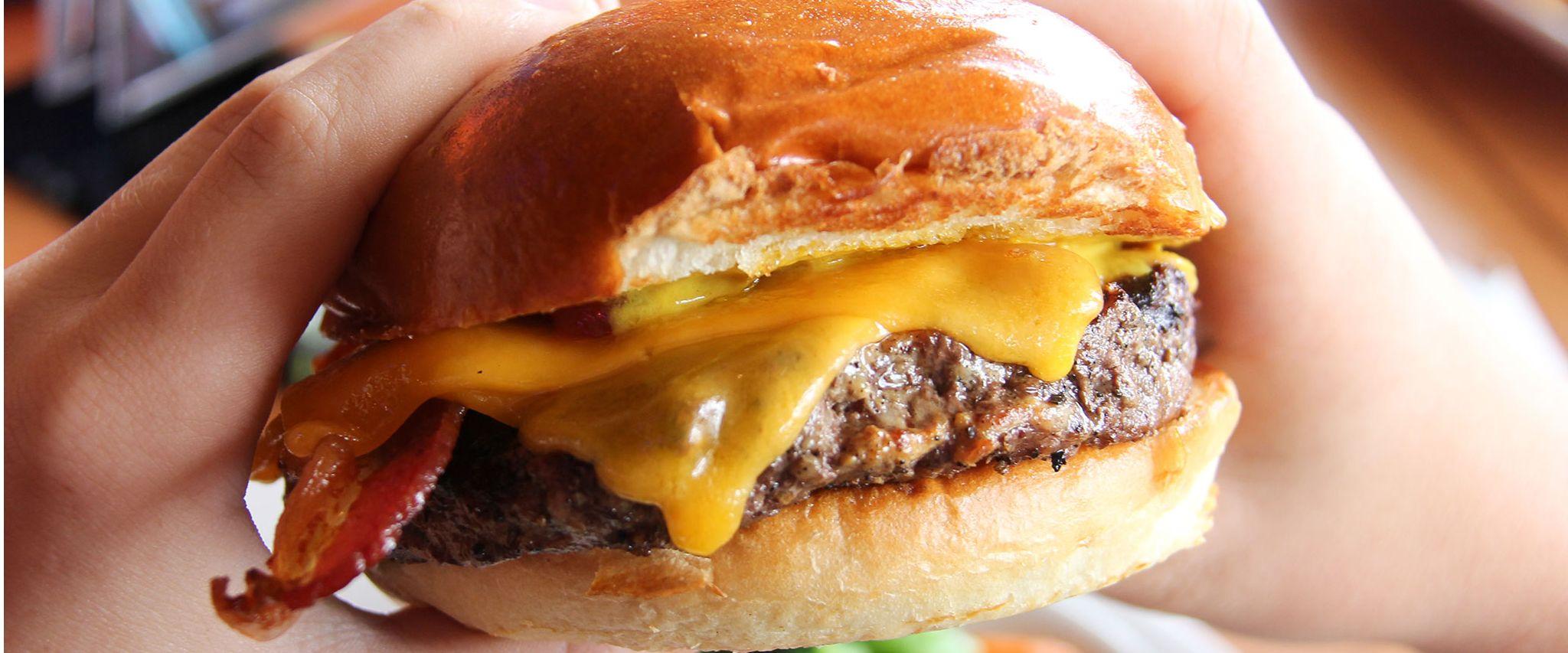 Eat Your Way Around the Burger Trail
A Part Of The Beach Bites Series
Nothing says summer like a good burger. Many of our beach restaurants serve burgers, but we have selected a few for you to give a try! Whether you eat meat or are vegan, there is a burger for you at the beach.
LUNCH
Start your Beach Burger Trail at The Cove Bar and Grill in Gulf Shores with their hand pattied burger. This one-of-a-kind burger is made from lean Hereford or Angus ground beef comes with lettuce, tomato, sliced onion and dill pickles. They also offer an array of additional toppings including bacon, fried egg, sautéed onions, fried jalapenos and fried green tomato.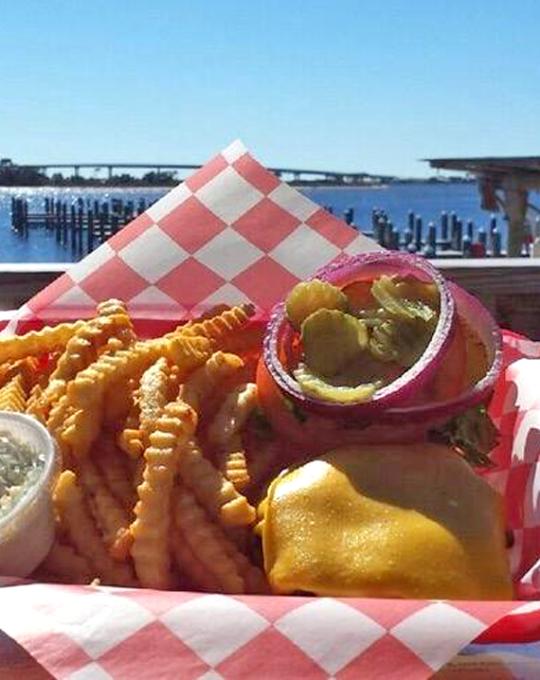 DINNER
Finish day one of your burger trail relaxing with one of the best views in town at Pleasure Island Tiki Bar at Sportsman Marina. Pleasure Island Tiki Bar is an open-air watering hole overlooking Terry Cove near Sportsman Marina in Orange Beach and serves the legendary Tiki Burger. This delicious burger is a 2/3 pound Angus beef patty dressed with Swiss cheese, mushrooms and teriyaki glazed pineapple. Topped with special tiki sauce and served on a toasted sourdough bun, this one is mouth-watering.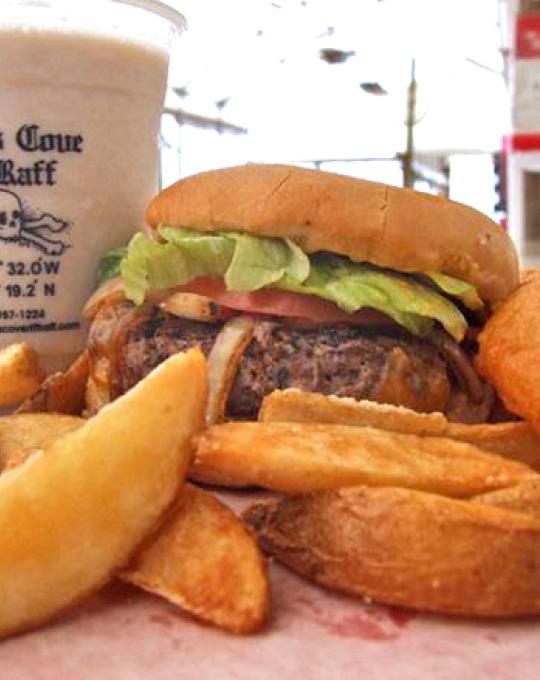 LUNCH
Day two of the burger trail starts at a local favorite — Pirate's Cove Marina & Restaurant. Known for their signature burgers, Pirate's Cove has been serving the Alabama Gulf Coast for 61 years. Their flavorful beef patty is served on two crisp buns with rich sauces. Toppings include everything from artichoke hearts to mozzarella cheese and sun-dried tomatoes; you will enjoy every bite.
DINNER
The last stop of day two is STK Burger in Orange Beach. We recommend you create your own steak burger that is hand pattied, fresh ground steak with no fillers, antibiotics or hormones. Just select your cheese and toppings and you are good to go!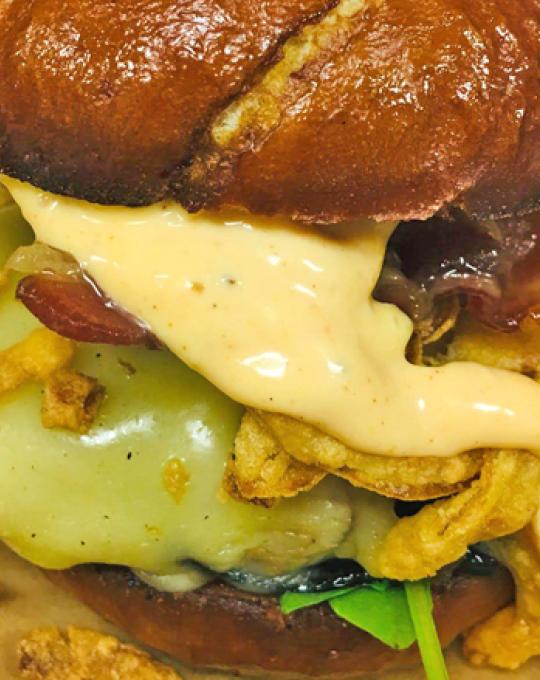 LUNCH
Day three begins with lunch at Bleus Burger in Gulf Shores. They offer several gourmet burger styles that can be made with beef, chicken or even a house made vegan patty. We like the Highway 61. This specialty burger comes with smoked cheddar, baby arugula, applewood smoked bacon, candied jalapenos, fried onions and house barbeque sauce.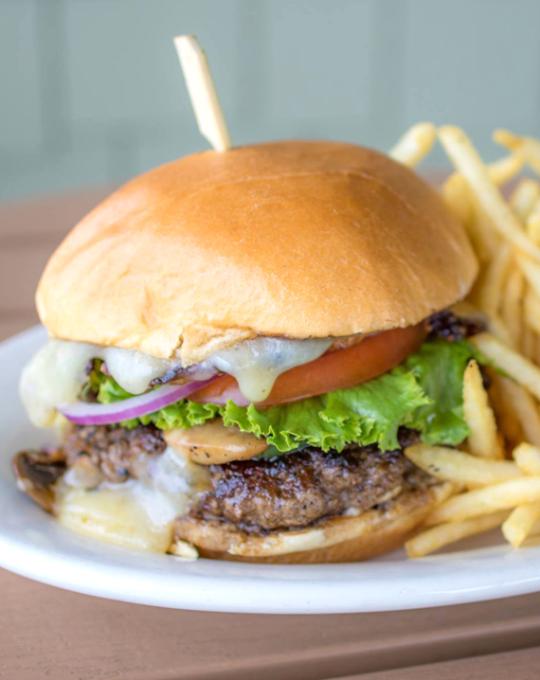 DINNER
Wrap up your beach burger tour at The Beach House Kitchen & Cocktails in Gulf Shores. Listed on their menu as simply 'the burger', you know they mean business. The burger is a 1/2 lb. house-ground USDA Certified Angus sirloin patty topped with lettuce, tomato, onion, mayo, and served on a pretzel bun. Although delicious on its own, you can additional toppings from bleu cheese, to a fried egg and avocado.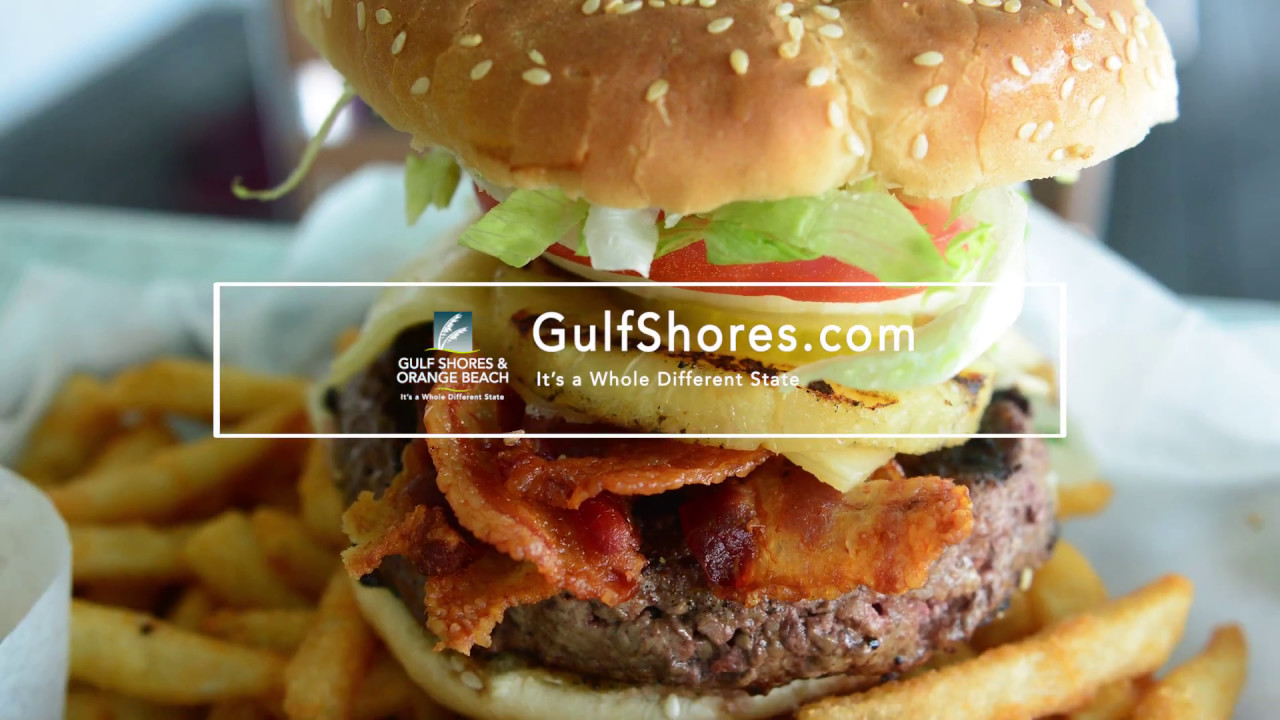 The Best Spots to Grab a Burger in Gulf Shores & Orange Beach, AL
Alabama Gulf Coast Burgers
Find featured eateries that cater to your particular taste and budget. 
Simply Can't Wait? Try Pineapple BBQ Meatloaf
Recipe Courtesy of Terri Oberle
Ingredients
2 lbs hamburger
1 egg
4 pieces bread broken up
1 can crushed pineapple
1 bottle bbq sauce
Directions
Combine egg and broken bread, let soften. Add hamburger. Mix well. Drain pineapple and save juice. Add 1/2 can of pieces to hamburger mix. Blend. Form into loaf. Mix together bbq sauce, other half of pineapple pieces and juice. Pour over loaf. Bake at 350 for 30 minutes or until done.