Eat Your Way Around the Burger Trail
A Part Of The Beach Bites Series
When you've had your fill of fresh Gulf seafood (is that possible?) and are ready for something else, a big beach burger may just fit the bill. Sink your teeth into juicy, hand-shaped beef piled high with all the garden you like – or not. Maybe you prefer slabs of cheese and Apple-wood bacon. Either way, hop aboard the Beach Burger Trail for savory goodness you'll want to write home about. Vacation postcard from paradise? Maybe that postcard looks like a burger. For Fan Favorite Beach Burger restaurants in Gulf Shores and Orange Beach, browse the directory.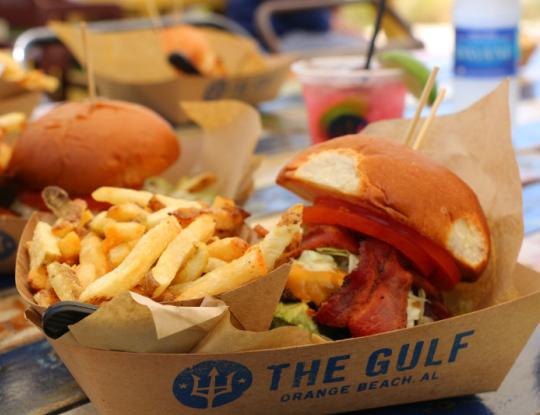 LUNCH
Start your Beach Burger Trail at The Gulf in Orange Beach. Not only will you be treated to Meyer Ranch all-natural Angus beef, but the views of Perdido Pass can't be beat! Travel blogger Sara Broers with Travel with Sara even dubbed The Gulf Burger as the best on the beach in her blog. This beef lover's dream has a delish helping of house-made garlic aioli and is served with lettuce and tomato on a brioche bun. Take it to the next level and add cheese and bacon.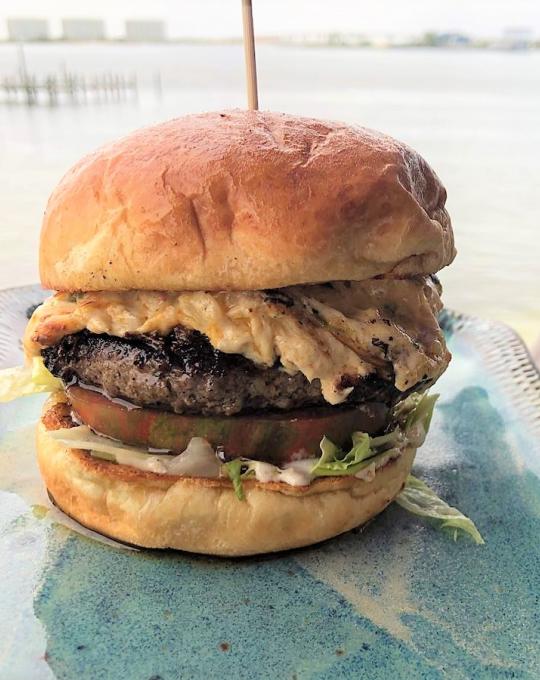 DINNER
When you want a melt-in-your-mouth burger, locals go to Anchor Bar & Grill in Orange Beach. The views of Terry Cove pair perfectly with the open-air restaurant's More In Than Out Burger. Sink your teeth into Louisiana wagyu beef topped with American cheese, iceberg lettuce, wickled mayo spread and caramelized onion and tomato jams.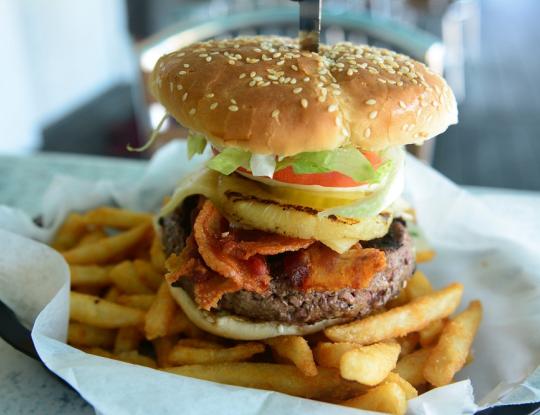 LUNCH
We're at the beach, so we're adding a tropical twist to the Beach Burger Trail. Located directly on the beach, Bahama Bob's is a favorite spot for locals and visitors to Gulf Shores. Dubbed a paradise-lover's delight, Bahama Bob's Burger is a whopping half-pound burger topped with grilled pineapple, bacon and double Swiss cheese. We're not kidding when we say a nap will be in order after downing this large-and-in-charge burger. 
DINNER
Attention, craft beer lovers! Luna's Eat & Drink in Orange Beach has a burger for you. To complement their extensive selection of craft beer, the chef concocted The Beerger. (Do you see what they did there with the name?) The Beerger is an impressive half-pound, hand-pattied blend of beer-basted ground chuck, brisket and short rib on a sourdough bun. This baby is slathered in Luna's beer mustard, fried onions and Luna's beer cheese. Not to be overlooked is The Gobbler. Turkey lovers will come back for seconds with this ground turkey burger topped with onion jam, spring greens and basil cheese spread.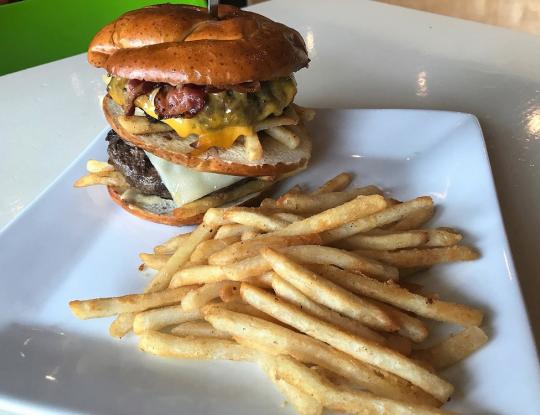 LUNCH
Wait - a wings place with burgers? You're at the beach. Anything is possible. If you love your burgers and your wings and can't decide which to chow down on for lunch, grab some wet naps and order up the Buffalo Bleu burger at Island Wing Company in Gulf Shores. This half-pound burger is dressed with Buffalo sauce and house-made buttermilk ranch dressing, topped with blue cheese crumbles and Monterey Jack cheese.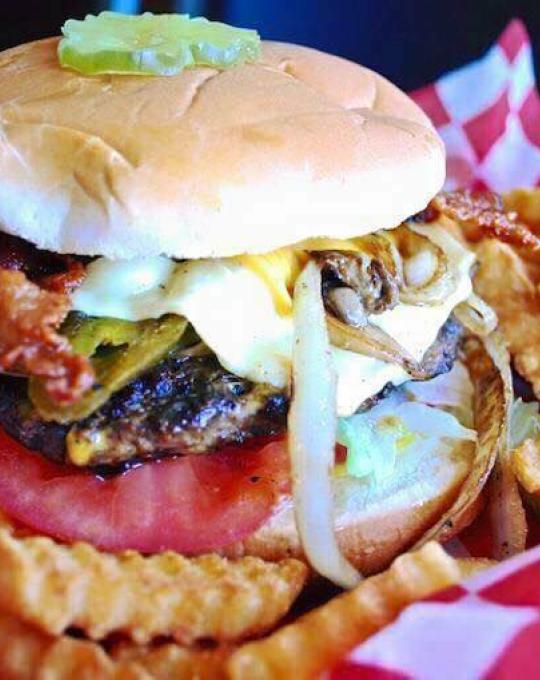 DINNER
We try not to mention the "H" word at the beach. But when a food is named after one, there's no getting by it - especially when it's the Hurricane Burger at Fish River Grill #3 in Gulf Shores. Maybe the chef named it because those first bites with jalapeno are intense, but then it mellows out in the middle, only for the heat to reappear on the other side. Either way, it's a great choice to end your Beach Burger Trail with. The Hurricane Burger is ooey and gooey, topped with grilled-to-perfection onions, mushrooms, bacon, Swiss and American cheeses and, of course, jalapeno for the kick.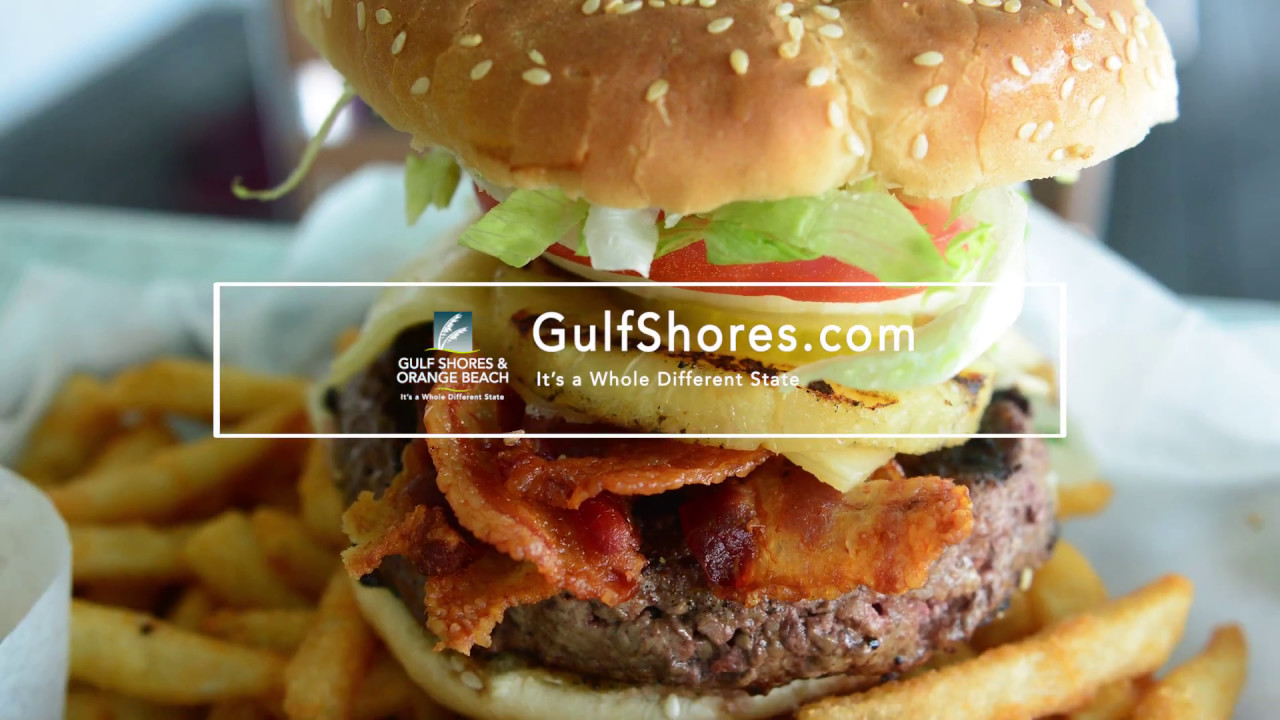 The Best Spots to Grab a Burger in Gulf Shores & Orange Beach, AL
Alabama Gulf Coast Burgers
Find featured eateries that cater to your particular taste and budget. 
Simply Can't Wait? Try Pineapple BBQ Meatloaf
Recipe Courtesy of Terri Oberle
Ingredients
2 lbs hamburger
1 egg
4 pieces bread broken up
1 can crushed pineapple
1 bottle bbq sauce
Directions
Combine egg and broken bread, let soften. Add hamburger. Mix well. Drain pineapple and save juice. Add 1/2 can of pieces to hamburger mix. Blend. Form into loaf. Mix together bbq sauce, other half of pineapple pieces and juice. Pour over loaf. Bake at 350 for 30 minutes or until done.