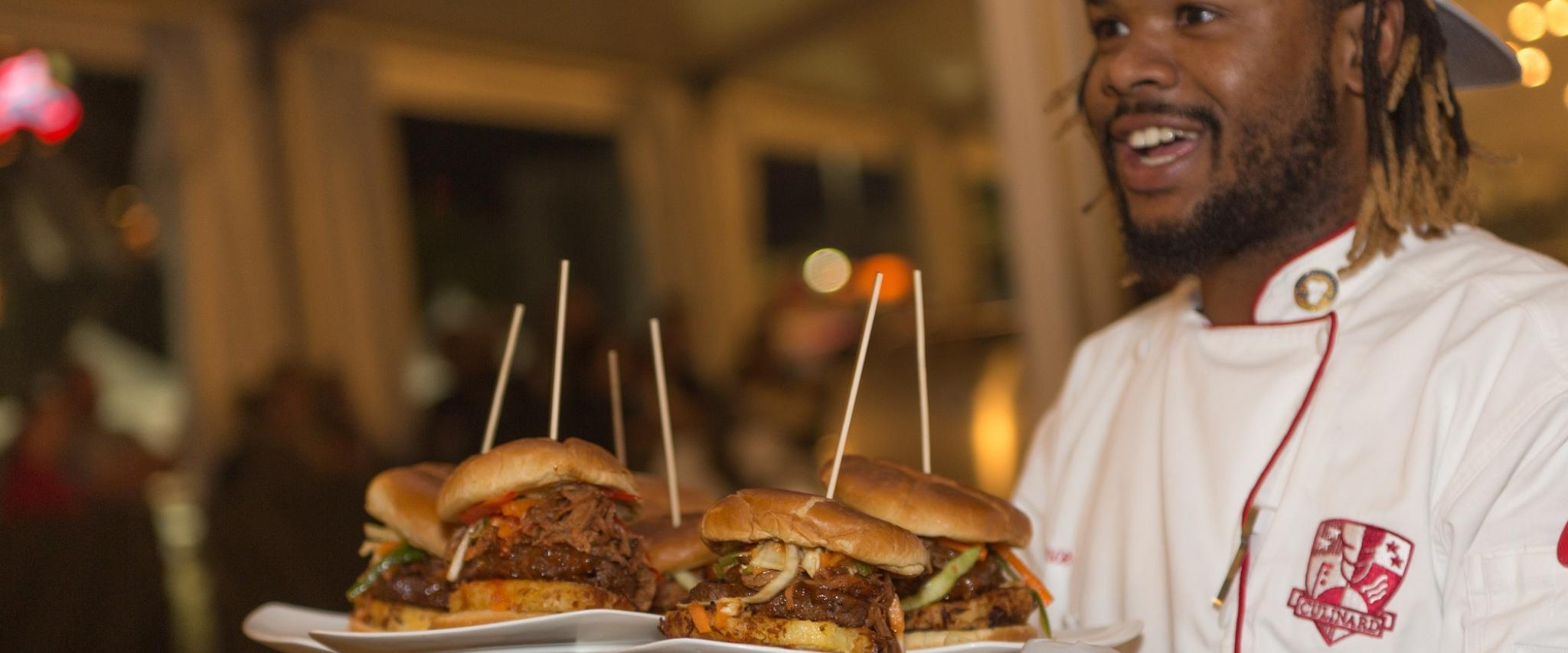 2018 World Food Championships
Gulf Shores & Orange Beach
Join us at The Wharf in Orange Beach November 9-11 where 1500 chefs and home cooks battle it out for a shot at the $350,000 in cash and prizes up for grabs along with the Ultimate Food Fight crown at the 2018 World Food Championships. Don't miss all of the cooking action including tasty spectator events, celebrity judges, and some of your favorite local Food Sport competitors. Whether you're a competitor, judge or visitor, special accommodation rates are available.
General admission: $10 for a day pass or $25 for a weekend pass; children 12 years and under get in FREE. 
World Food Championships Events
Walmart's VIP Lounge: November 8-11, 10am-6pm, daily passes or weekend passes available. VIP ticket holders will enjoy celebrity chef demos, complimentary refreshments, a birds-eye-view of the action and get to sample the Food Champs' creations. Get your VIP pass.
Tasting Pavilion: November 9-11, 11am-4pm. FREE with Walmart app on your phone. Enjoy savory samples from local, regional and national food brands.
Showcase Stage Featuring Fun, Food and Champs: November 9-11. Watch demonstrations, listen to tips on how to spice up your cooking, and try delicious samples by leading Food Champs from around the world.
BBQ Beach: November 9-11, 11am-4pm. Tickets included with gate admission. Listen as pitmasters and celebrity chefs share BBQ tips, and try their tasty samples all weekend long.
Steakout: November 9-11, 11am-4pm. Tickets included with gate admission. Learn from the grillmasters how to create juicy, tender steaks every time.
The Yacht Club Progressive Dinner Party: November 10 at The Wharf Marina, 4pm-6pm. Dine on board multiple luxurious yachts and enjoy award-winning recipes cooked by five of WFC's past champions. Tickets are limited. Click here to purchase your tickets. 
Teen Green Challenge: November 10. Tickets included with gate admission. Cheer on your favorite future celebrity chef as they create a healthy dish in 30 minutes or less. 
World Food Games: November 10-11, 11am-4pm. Tickets included with gate admission. Your entire family will enjoy the Speed Cup Stacking, Team Egg Toss, Marshmallow Challenge, Orange Relay Races, a Corn Shucking Contest and more.
Food Champ Judging Class: November 11, 3pm-5pm. Get your Gold Card today and become a certified Food Champ Judge. A certified Food Sport professional takes you through the proprietary E.A.T Methodology. Upon completion, you'll be eligible to judge at any future WFC event.
For more information, visit the 2018 World Food Championships.