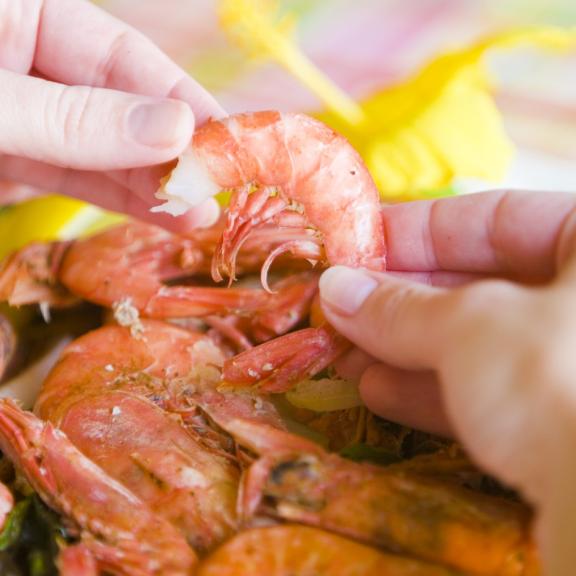 10 Shrimp Dishes
In Gulf Shroes & Orange Beach
Gulf Shores & Orange Beach Tourism
August 4, 2022
Shrimp – the king of crustaceans along Alabama's beaches – is served up fried, steamed, boiled, broiled, grilled…you get the picture. Whether you're looking to grab a shrimp boil to-go and eat in with your team or family or dine out, check out our top 10 picks to get your shrimp fix.
Cosmo's Restaurant & Bar: Two words: firecracker shrimp. Bay shrimp are lightly battered, fried and tossed in a mouthwatering remoulade sauce that will leave you begging for more. To top it all off, Cosmo's offers some of the best outdoor dining on their covered patio with live music on weekends and a decadent dessert selection.
The Hangout: With some of the best views in Gulf Shores, The Hangout, home of the Hangout Music Festival, serves up yummy shrimp varieties like "peel and eat" and fried in a family-friendly atmosphere – a perfect location for the whole team to dine together.
Doc's Seafood Shack: Serving up the "best-fried shrimp in the entire civilized world," Doc's is known for its succulent, savory, lightly battered shrimp. But, don't take our word for it. Fox News, The Daily Meal and USA Today, to name a few, have included this down-home dive on "best" lists through the years.
Flora-Bama Ole River Grill: Yes, that Flora-Bama! Across the street from the legendary beach bar is one of its sister restaurants, Flora-Bama Ole River Grill, known for Big Earl's Shrimp & Grits, featuring blackened shrimp, Gouda grits, and bacon tomato cream. Enough said.
Tacky Jacks: Voted a favorite hangout for locals, each of Tacky Jacks' locations in Orange Beach, Gulf Shores, and Fort Morgan are waterfront and serve up some serious shrimp selections. From fried shrimp po-boys to blackened shrimp wraps, Tacky Jacks has you covered.
Cobalt the Restaurant: Located at Caribe Resort by Perdido Pass, patrons have an ideal view of bountiful boats and sensational sunsets, but that's not the best part. Cobalt dishes up out-of-this-world Gulf shrimp and grits featuring gouda, bacon and tomato fennel cream, as well as other crustacean creations.
GTs on the Bay: Overlooking Wolf Bay with plentiful indoor and outdoor dining space, GTs offers a great set-up for large groups, and you guessed it – shrimp. Scrumptious shrimp is served multiple ways, including steamed, grilled, blackened and the star of the show in GTs creamy Creole linguini.
LuLu's: LuLu's is loaded with lots of fun for the whole family before, during and after chowing down on a slew of shrimp, featuring an arcade, ropes course and sand area. If you have food allergy concerns in your group, the restaurant offers menus for dairy, egg, gluten, seafood, shellfish and soy allergies, and a manager handles the order from start to finish, with the meal prepared in a separate section of the kitchen.
Original Oyster House: While oysters steal the stage at Original Oyster House, its shrimp dishes are not to be missed. From steamed Royal red shrimp – a delicacy in the destination – to stuffed shrimp, there's something for every shrimp lover. Oh, and don't forget the homemade chocolate chip peanut butter pie!
 Rouses Markets: Looking for the perfect grab-and-go option to satisfy your crustacean craving? With locations in Gulf Shores and Orange Beach, Rouse's sources seafood locally and regionally and is always happy to season and steam shrimp to order or prepare a seafood boil with all the fixings. Plus, the deli section has plenty of sides for perfect pairings.
Moral of the story? You don't have to search far for succulent shrimp in Gulf Shores and Orange Beach. View a full list of our Sports Commission restaurant sponsors to select the best cookery for your crew.