Inshore or Offshore: Which Saltwater Fishing is for You?
August 6, 2020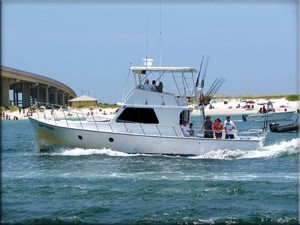 Are you heading to Gulf Shores and Orange Beach this summer and want to try a little fishing? When someone thinks of saltwater fishing, a big boat with no land in sight comes to mind. Saltwater doesn't always mean offshore in the Gulf of Mexico. We also have some of the best inshore fishing around. Which one is right for you?
Popular inshore fishing trips explore the areas around Perdido Pass, Fort Morgan and the back bays. These brackish waters typically bring in speckled trout, white trout, tripletail, flounder and redfish. If your family wants to join you, an inshore trip is a perfect adventure to introduce the kiddos to the fun of fishing while enjoying the native wildlife and natural habitat. Most inshore trips are four or six hours.
The other choice for saltwater fishing is offshore, or deep sea fishing, in the Gulf of Mexico. These trips can be from three hours to three days! The most popular offshore trips are four to six hours. The longer the trip, the more distance you can cover to find great fishing action. No matter how far, the experienced charter captain has favorite areas that include artificial reefs and natural sand bottoms. The species of fish you encounter depends on how far offshore you travel. It may seem the offshore trip would be for the more experienced angler, but it's just as much fun for a novice. Most offshore charters welcome families, but be sure to check for an age limit when booking.
You can find charters for both offshore and inshore fishing on our website.