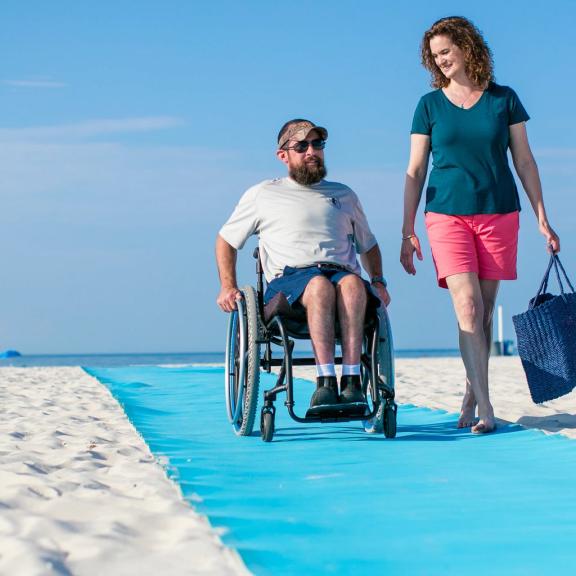 10 Fun Wheelchair-Friendly Activities
Gulf Shores & Orange Beach
2. Beachside Mini Golf
Mini-golf is a must-do when you're on vacation at the beach, and Beachside Mini Golf offers 9 ADA-compliant and handicap-accessible holes for you to putt through. While on the course, you'll admire the 50ft lighthouse, play around the charter fishing boat, and enjoy the sounds of the waterfall. After you've worked your way through all 18 holes, visit the mining discovery zone and search for gemstones, fossils, and shells. 
4. Dolphin Cruise
Hit the water with a Sunny Lady Dolphin cruise and explore the waterways of coastal Alabama. The tours take place on large, comfortable boats that are wheelchair accessible so that you can roll right on. During this 1.5-hour tour, your captain will tell you all about the area's local dolphins and their habits. The boat also has a snack bar and restrooms.
6. Big Beach Brewing
Beer enthusiasts have to visit Big Beach Brewing in Gulf Shores. The only brewery at the beach, Big Beach brews its beers on-site in a 10-barrel brewhouse. They serve staple beers like their Area 251 Hazy IPA and Rod's Reel Cream Ale all year long and have a rotating menu of their latest creations. You'll want to order a flight, so you can try more than one. If you're not a beer lover, order a glass of one of their house-made wines. The brewery offers indoor and outdoor seating and has a food truck that serves delicious eats on the weekends.
8. High Cotton
Enhance your nightly routine with custom-made products from High Cotton Bath. Here, you can create bath scrubs, lotions, soaps, and many more bath-time commodities. With over 200 fragrances and 40 base products, you'll be able to mix and match until you find the perfect combo. They'll even save a record of your favorite scents, so you can visit again and make more personalized products. 
10. The Beach
Of course, you must visit the beach while on the Alabama Gulf Coast. Two of the best places to spend a day in the sand are Gulf Place in Gulf Shores and Cotton Bayou in Orange Beach. These beach accesses have everything you need for a perfect beach day, including showers, restrooms, and beach access mats. The mats make getting down to the water a breeze, especially for people who use a wheelchair or have difficulty walking.
If you prefer to experience the beach beyond the mat, several area businesses rent electric beach chairs, including Beach Power Rentals, Beach'N Buggy's, and Ike's Beach Service.
Now that you've narrowed down your activities, check out these wheelchair-accessible accommodations and book your trip to Alabama's beaches.