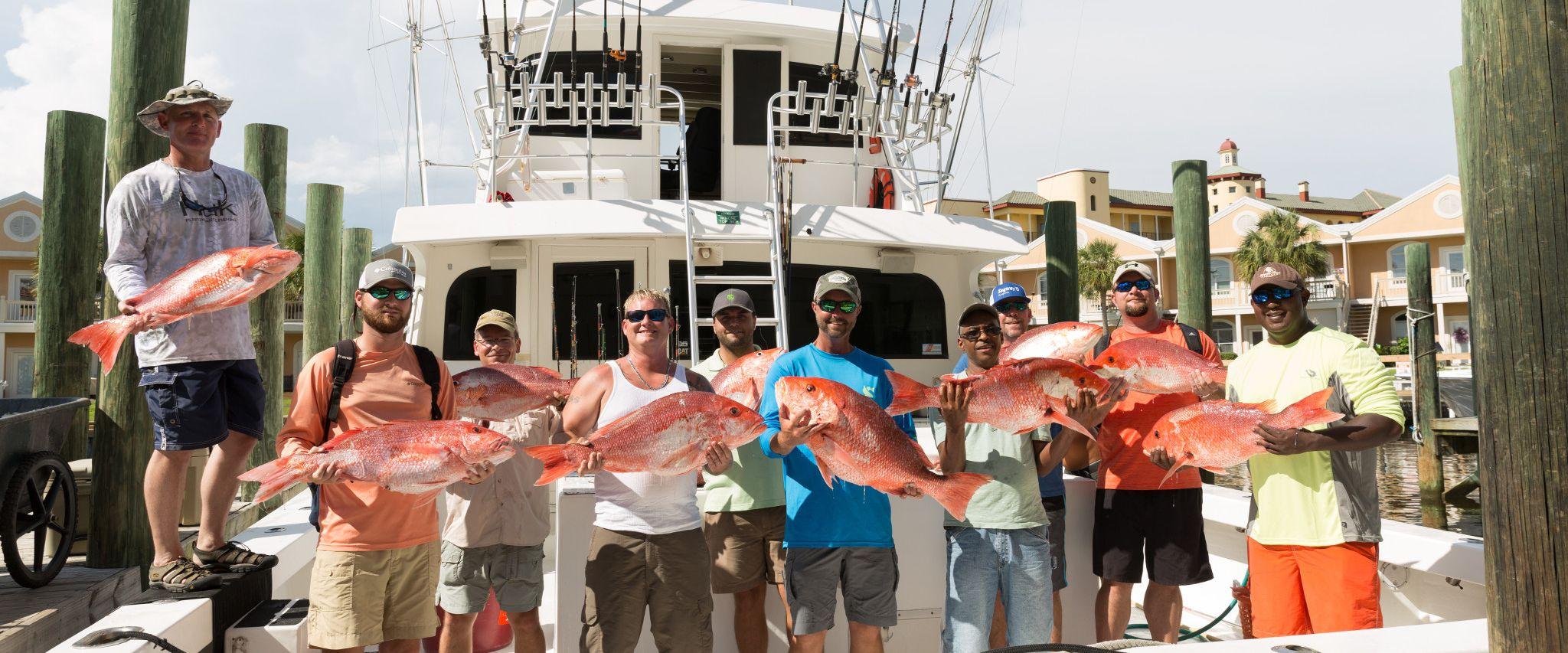 What Dads Do When It's Just the Guys
It's four other dads and me… the fellas pack into the Suburban, converging for the guys getaway dream - deep sea fishing, craft brews and golf.
April 9, 2020
We've done this Gulf Shores trip before, in many iterations, but always with our families.
I suggested this trip to my wife and she asked, "what would dads do when it's just the guys?" Then went on to add, "... probably lots of fart jokes and football." Not going to deny some of that happening. But our deep-sea fishing adventure first starts FAR more disciplined in travel. We're on the road for approximately seven hours, one-stop for snacks and gas.
This is a far cry from our typical family experiences that look like this:
Car seats, sippy cups and goldfish in crevices that defy logic. Did I mention the Paw Patrol soundtrack flooding the air from devices galore? No, wait. Arguments unfold…something about Fortnite and Lego princesses.
I'm so confused.
Nope, not on this dad's trip.
The only sounds we hear now are 80s rock, and mid 90s Dave Matthews throwbacks. And yes, a few fart jokes already.
We make efficient use of our time, drop off our things at the beach condo, and head over to grab dinner at Sea-n-Suds. Overlooking the turquoise waters and white, powder-sugar sand beach, we are seated on the patio, warm sun overhead and the sounds of the crashing sea greet us.
Shooting a few dozen oysters, eating baskets of deep-fried seafood deliciousness, and washing it all down with a bottle of ice-cold hops' juice… the sun is setting, dazzling the sky with orange, pink and red.
We have arrived!
Saturday, we are up EARLY… it's fishing o'clock in the morning and the sun hasn't even thought of waking up yet. The guided fishing trips in Gulf Shores and Orange Beach are our focal point of this trip, so we're up and at em' with coffee in hand and out the door.
There's something truly bonding and rewarding over the slaying of aqua predators and then dining on their filets later in the afternoon.
We are hunters. We are adventurers. We are storytellers… (some tales less than believable).
We are sunburned.
Don't forget your sunscreen, y'all.
The day unveils many "fish on" moments, big ones that got away and braggadocious commentary from the more colorful fellas in the bunch.
We're having incredible fun in a beautiful blue surrounding, but we must head back.
The beautiful seas carry us back to the marina and our captain cleans our fish as we seek out our cellphones to locate where to acquire charcoal briquets… We're dining on our catch tonight!
But first, a nap.
We didn't plan these naps mind you… they sort of snuck up on us scattering bodies around the condo.
Then, we fire up the grill and dine on our catch…lemon juice, herbs and salt.
Of course, that stop for charcoal spilled into an over-shopped grocery list and now there's absolutely no shortage of food around this place.
We have a feast, reliving the stories throughout the day and say amongst one another, "why don't we do this more often?"