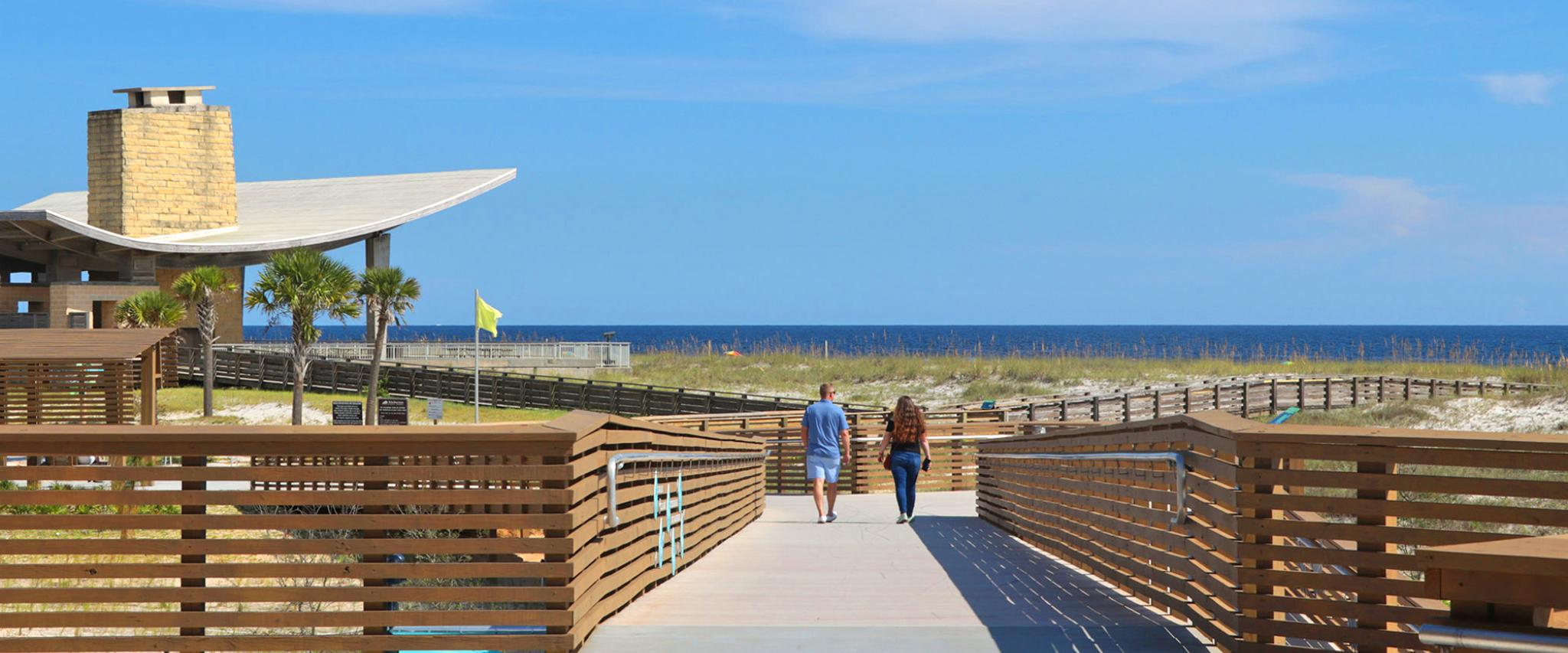 Alabama Eco-Tourism
Alabama's Beaches Bring Eco-Tourism to a Whole New Level of Sustainability
January 16, 2019
Alabama's beaches are known for their fine, sugary sand that blankets the shoreline for 32 miles. A few years ago when I visited, I learned about the Leave Only Footprints initiative. Since then, the program has really picked up a lot of steam. While the beaches in Gulf Shores and Orange Beach have always been beautiful, the initiative went a step further to ensure they remain pristine for generations to come. Since the beginning of the program, beach goers have been paying attention to the new rules and the beach is even more beautiful than before. It's a clean, enjoyable environment for all, even the native wildlife and marine life.
Orange Beach Turtle Toy Boxes
Orange Beach is offering a new program that I recently fell in love with. Turtle toy boxes are now located in several public beach areas in Orange Beach. Beach toys are stored inside for everyone to use while enjoying a day of sun and sandcastle building. Imagine not dragging all of that sand home with you. Isn't this a brilliant idea? Families are encouraged to drop sand toys in the boxes when they leave the beach for the day, allowing other families to enjoy them later. This is a great way for families to enjoy the beach without having to carry bags of sand and water toys with them. I also love the fact that sea turtles are a part of this program. When it comes to educating beach goers of all ages on how important the sea turtles are to the Alabama Gulf Coast, this is a great conversation starter.
One with Nature at Gulf State Park
Gulf State Park is taking on a whole new look and feel of its own as The Lodge at Gulf State Park, a Hilton Hotel, recently opened. Upon entering the lodge, I was literally taken back to a nature lover's paradise. Located along the beach, a sustainable environment is created by planting native species for bird habitats, nesting sea turtles and the Alabama beach mouse. The Alabama Gulf Coast is home to many birds and the floor-to-ceiling glass windows in the main lobby even have bird-friendly safety measures within their design. Connectivity to the outdoors is a central focus of The Lodge.
Just steps from The Lodge is the Gulf State Park Interpretive Center, a sustainable facility that is one of only 16 certified Living Buildings in the world. The Interpretive Center is a hub of eco-education and offers indoor and outdoor exhibits and educational opportunities to families to learn about the beach's unique ecosystem. The center also connects to the Hugh S. Branyon Backcountry Trail system and Lake Shelby via an elevated pedestrian bridge. It has never been easier to enjoy nature than it is now along the beaches of Alabama.
It has been fun to watch Gulf Shores and Orange Beach bring more awareness to eco-tourism, as it encourages visitors like myself to dive in, learn and explore the area's natural surroundings and habitats. Just as the cities are making strides to protect and enhance the beaches, it's also up to visitors to embrace change and do our part to help implement those changes. I know I sure have found my space along the Alabama coastline, as I love the clean beaches and being able to enjoy nature.
How to Do Your Part for the Beach's Future
1. Learn and use the Leave Only Footprints beach usage rules.
2. Visit the Gulf State Park Interpretive Center and learn about the strides in sustainability.
3. Learn how to protect Alabama's nesting sea turtles and their hatchlings.