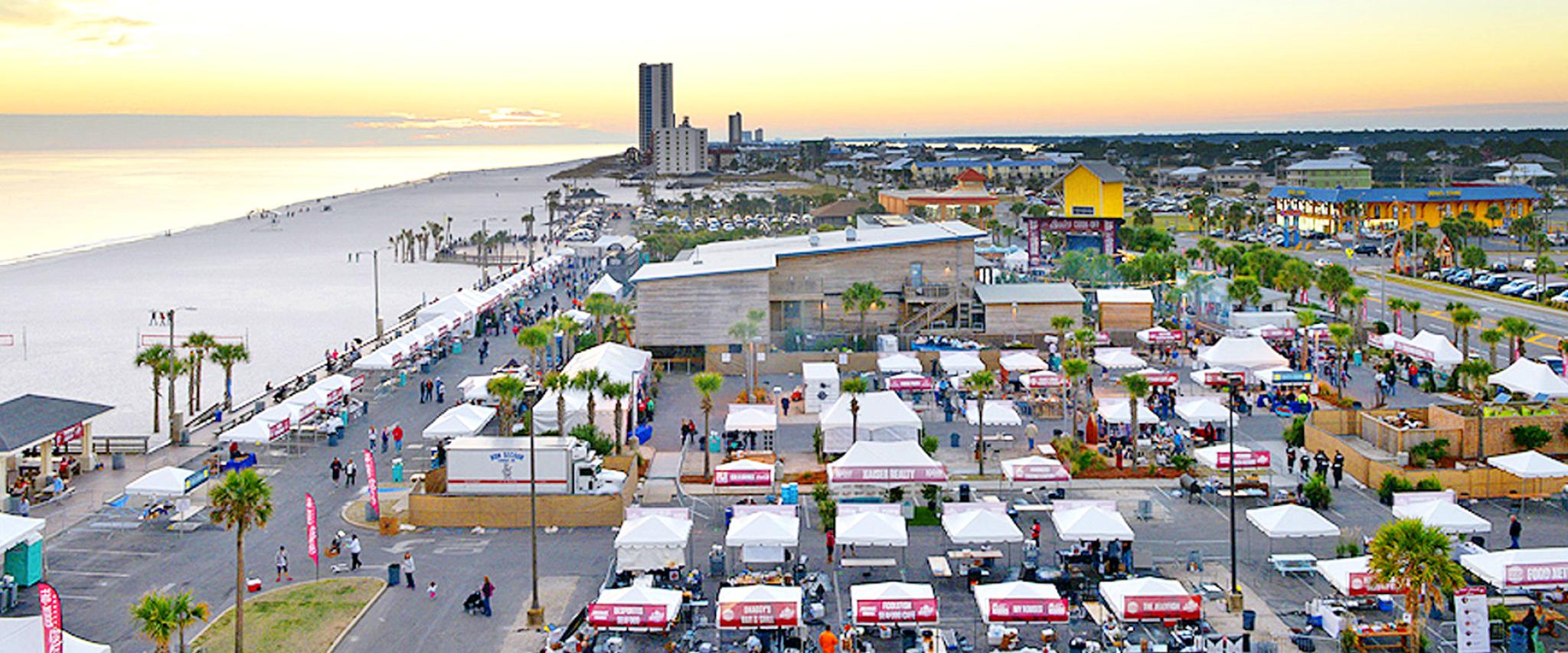 Five Reasons to Attend the Oyster Cook-Off in Gulf Shores
For the past 11 years, oyster lovers have converged on Gulf Shores each fall to celebrate their favorite seafood at the Annual Oyster Cook-Off and Craft Beer Weekend at The Hangout. 
August 10, 2019
For its 12th year, the seafood celebration promises to be another foodie-star-studded event. If you're wondering why you should make a break for the beach for this delish event, here are five reasons to come with an empty stomach.
1. Really, do we need to say more?
Dozens of top local and regional chefs and restaurants will compete for your taste buds' attention on Saturday, November 2 between 11 a.m. and 6 p.m. You'll find all of your favorite preparations, and even some new ones you never thought possible!
2. Craft Beer. What goes best with oysters?
Craft beer, of course! On Friday, Nov. 1, from 6 to 11 p.m., take your pick from more than 60 craft beers and 30 breweries. Brewmasters will be on hand with demos, enjoy some Brew B'que and listen to live music for entertainment all evening long.
3. North American Oyster Showcase.
That's right, more oysters. We know you love our fresh Gulf oysters and the boutique oysters from the Alabama Gulf Coast. At the North American Oyster Showcase, you'll have the opportunity to taste varieties flown in fresh from seven regions, including the Pacific Northwest, New England, the Maritime, British Columbia, the Mid-Atlantic, Baja Peninsula and, of course, the Gulf of Mexico.
Celebrity Chefs.
Learn from some of the best when nationally recognized chefs perform demos and give workshops throughout the weekend. More chefs are being added each week, and you're sure to find great James Beard award-winning culinary creators and their special way of "doing" oysters.
Best Tasting Tailgate.
We know fall Saturdays are for the gridiron, but now you can have your oyster and eat it, too! Seriously, where else will you find a better-tasting tailgate party? Stop by one of the sports viewing lounges set up onsite so you don't miss a minute of oyster action or football action!
Also, join in the fun by taking part in the oyster shucking contest or cheer on folks in our Bloody Mary Invitational.
Tickets are purchased separately for the Craft Beer Weekend and the Oyster Cook-Off. Tickets for the Craft Beer Weekend start at $40. Admission to the Oyster Cook-Off is $10, but free for children 12 and under. Tasting tickets are available for pre-sale at $30 for 15 tickets (this price does not include admission), and the cook-off begins at 11 a.m.