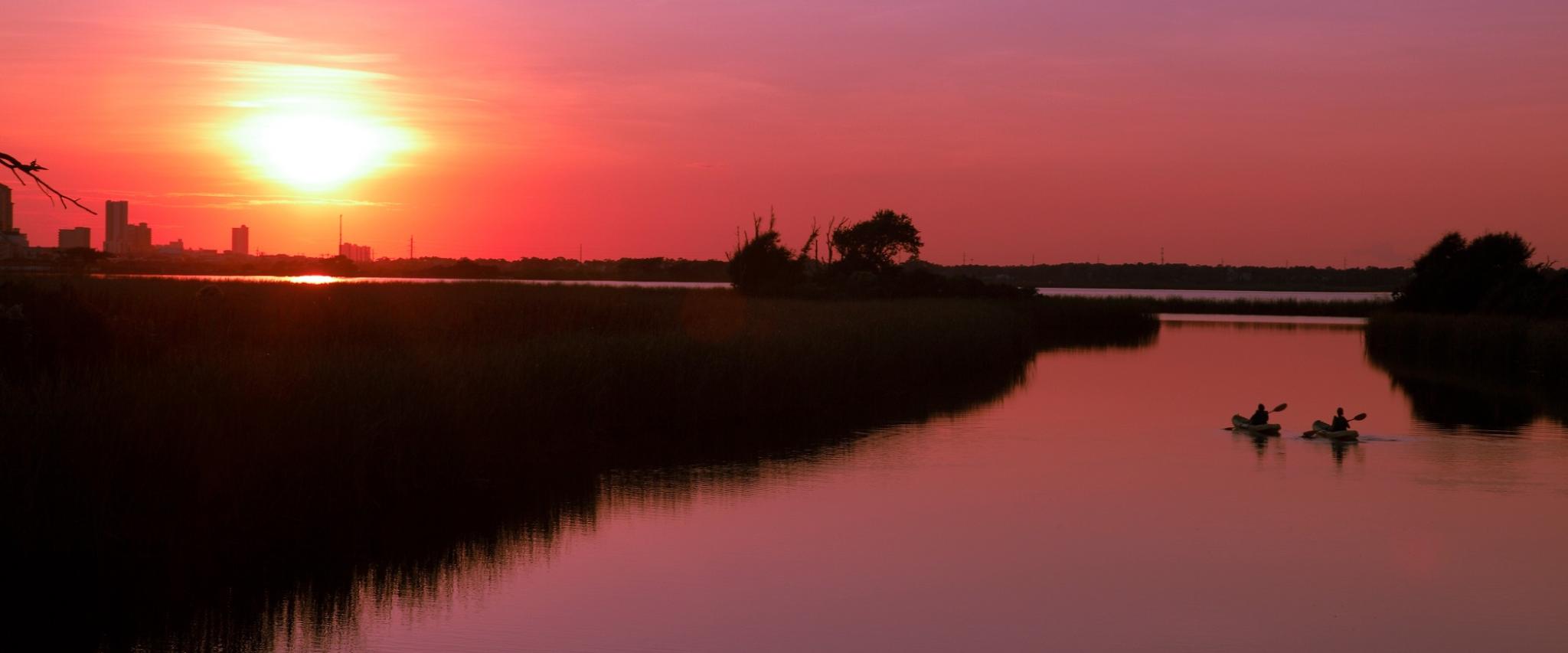 Room for Two with a View: A Couple's Weekend in Gulf Shores
Toes in the sand, your favorite person sharing the shade under an umbrella, fingers intertwined as you hold hands and look out at the sun sparkling on the water.
May 4, 2020
Sounds pretty much perfect, huh?
When you think of romantic getaways for two, what can beat a trip to somewhere warm and relaxing, like the beach, and if you want it to be a beach overflowing with delicious dining options and enjoyable activities, the beaches of Gulf Shores and Orange Beach, Alabama, should be top on your list.
Gulf Shores, Orange Beach and Fort Morgan Beaches
The beach, of course, is going to be your focal point for fun, whether you like walking along the shore arm-in-arm at sunset (a romantic must on my list), or goofing around together throwing a frisbee or snorkeling in the surf.  There are miles and miles of coastline to enjoy along Alabama, with different spots ideal for different purposes. For alone time as a couple, I recommend sneaking down to the quieter sections you'll find around Fort Morgan, and if you're feeling a little more social, you may want to look more toward Orange Beach, packed with little spots like The Gulf where you can kick back with a few drinks and soak up great views of boats coming through the pass. In between Fort Morgan and Orange Beach is Gulf Shores, ideal for a perfect base to have a little of both fun and quiet time.
Hot Spots for Beach Eats
All along the coast you'll find great restaurants. The Gulf, mentioned above, is famous for its grouper sandwiches, though I like the burgers, too (and their Surfs Up drinks). LuLu's serves up a ton of fun with its food, and if you want something a little on the fancier side, Fisher's at Orange Beach Marina is divine. I'm a huge shrimp and grits fan, and they make some of the yummiest I've ever tried, though the oysters are really good, too.
Where to Stay for a Couple's Getaway
Worried you might be hit with less than desirable weather? Here's the cool part about this for couples: if Mother Nature doesn't cooperate with good weather, watching the rain from a balcony is pretty close to perfect, too. I highly recommend you book a place right on the water, so you have those to-die-for views even from bed. Bonus if you have a balcony! There are lots of condos and homes you can rent that make this possible. I've stayed in places available through Spectrum Resorts, Harris Properties, and Young's Suncoast Rentals and highly recommend each. Finding the right location is essential for your Gulf Coast getaway!
Uncrowded Beaches for Miles
What makes these beaches better than some of their Florida counterparts is the people. All too often, the beaches along the Panhandle can be too crowded, finding it tough to find a spot with a front-row view of the water where you don't have to step over bodies and blankets left and right. The beaches along the Alabama Gulf Coast still tend to be a bit of a secret for many, and I find them to be just as beautiful as those to the east.
If you are fortunate enough to enjoy ideal weather, there are incredible excursions to help you deepen your connection as a couple. My top two recommendations both involve being out on the water together. One involves kayaking in the Bon Secour National Wildlife Refuge with Wild Native Tours. You can kayak together, paddling in sync as you explore the nature and wildlife found in the bay. If you don't want to exert that much energy, a sunset cruise on Sail Wild Hearts or another dolphin cruise offers an option you can only enjoy on the coast, the ability to relax together as the boat glides over the water at sundown.
To be honest, you can do any or all of the above in Orange Beach and Gulf Shores and make some special memories, then leave the beach feeling more connected as a couple. I warn you, though, you're going to want to come back and do it again.