Let the Adventure Begin
For a one-of-a-kind, adrenaline-pumping experience and to soak up some amazing views of the Gulf Coast, fly from tower to tower on the Hummingbird Zipline course.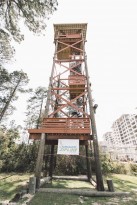 4830 Main St., Ste. G-114
Experience the thrills of Alabama's longest zipline course, over 6000 feet of flying fun! Your 2 hour guided tour soars up to 115 feet above ground as you see and learn about the pristine coastal...
The 2.5-hour course is the highest and longest in Alabama. It features eight ziplines, some as high as 115 feet off the ground, traversing more than 6,000 feet. Expect to experience speeds reaching 40 miles-per-hour while gliding over pristine bays and through federally protected wetland areas, beginning and ending just off Main Street at The Wharf.
During your ziplining adventure, you will be supervised and will remain tethered at all times while on the course. Two trained guides lead groups of 10 zippers along the course. The guides are trained in first aid, CPR, AED operation and advanced rope skills, and are in constant radio communications with the course supervisor and guest services team. Zippers must be at least 10 years old, weigh between 70-250 pounds, able to climb several flights of stairs and able to lift 15 pounds.
Reserve this unforgettable experience today and make many fun-filled, zipping memories to add to your beach getaway.
After your adventure, check out The Wharf's many mouthwatering restaurants or shop for a unique souvenir.