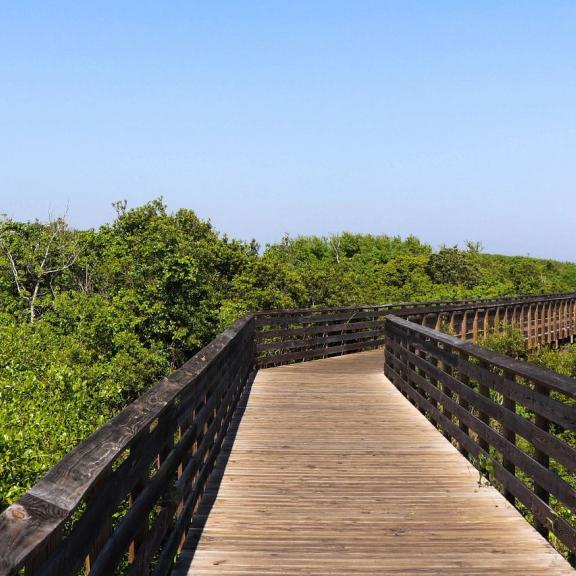 5 Wheelchair Accessible
Things to Do in Gulf Shores & Orange Beach
Gulf Shores and Orange Beach have a breathtaking 32 miles of sugar-white sand beaches.
June 25, 2020
Each town strives to be a family-friendly destination for every traveler, including wheelchair users. In the past, visiting beaches with a wheelchair may have been avoided due to the lack of access to roll in the sand, but not here! Not only are the beaches accessible, but these wonderful cities also offer many other experiences for you and your family to enjoy together. I have narrowed down my top five wheelchair accessible things to do in Gulf Shores and Orange Beach, Alabama. So, lock your wheels and sit tight - you are in for a ride! 
3. WildNative Cruises
Explore the waterways of coastal Alabama with WildNative Tours. This company offers wheelchair accessible options to roll right onto a large boat and enjoy a coastal eco-tour. On this cruise, you will have the opportunity to see osprey, pelicans, gulls and many other birds, and need I mention the highly desired experience of dolphins swimming near the boat? This tour lasts about two hours long, and trust me, you will hate to see it end, as you will want to do this experience again and again.
4. The Hot Shop at Coastal Arts Center
Take a creative journey during your stay while taking a glass blowing class at The Hot Shop. The Hot Shop is Alabama's premier hot glass blowing studio, where you can make your own glass pieces, and it is located at the Coastal Arts Center in Orange Beach. 
You can roll right into the studio, admire beautiful pieces of glassware made by others, and then have a well-trained glassblower assist you with making your own piece of beautiful art. No matter your ability, all safety precautions are met to ensure your safety when handling the hot glass. 
When your masterpiece is completed, just leave your address and once the glass is set and cooled, your package encasing your art will arrive at your doorstep. It's as easy as that.