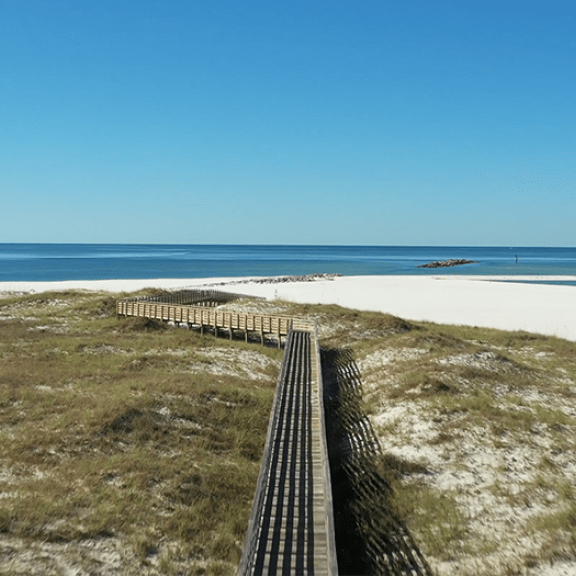 Seas The Day
Want a getaway to relax in the sun? There's a beach for that. Feel like parasailing or playing volleyball? There's a beach for that, too. In Gulf Shores and Orange Beach, the name tells the story – miles of pristine white quartz sand washed by blue-green Gulf waters. With kids building sandcastles in the summer and snowbirds strolling the shoreline in winter, Gulf Shores beaches are a year-round attraction, whether you came to swim, sunbathe, get in some yoga at sunrise or take a romantic walk at sunset. Beaches at Gulf Shores and Orange Beach all share the scenic beauty and windswept vistas beloved by travelers from across the nation, but each offers something unique and special as well. 
Lifeguards are stationed on Gulf Shores and Orange Beach public beaches from March through October from 10 a.m. to 6 p.m. The Gulf Shores beaches with lifeguard stands include Gulf Place, West 6th Street, The Pavilion, and Lagoon Pass. In Orange Beach, lifeguards are posted at  Shell Beach, Alabama Point East, Cotton Bayou, and Romar Beach. 
For those looking for wheelchair-accessible beach access points, there are three beach mats located at Gulf Place and one at East Gulf Place
Find Your Perfect Beach in Gulf Shores & Orange Beach
Gulf Shores Main Public Beach (Gulf Place)
Everyone loves Gulf Place Beach. This beach features plenty of things to do including sandy beach bars, eateries, beach boutique stores, pavilions, picnic areas, volleyball, watersports and beach hotels that let you stay and play. Highway 59 dead-ends at the main beach area, but there is public access up and down the coast.
Gulf State Park
Gulf State Park
Gulf State Park offers a whirl of activities including boating, paddle boarding, fishing, from the Gulf State Park Pier, biking, golfing and camping. There's even a play area just for dogs located at Lake Shelby on the park's western end. From the main entrance at the Beach Pavilion in Gulf Shores, there are access points along Orange Beach (including Alabama Point East).
Orange Beach and Cotton Bayou
Cotton Bayou is set at the intersection of Highways 182 and 161 in Orange Beach and also part of Gulf State Park. Cotton Bayou is small in size but big on amenities, including outdoor showers and ample free parking. This beach is located within convenient walking distance of the primary Orange Beach condominiums.
Some beach goers plant their towels, open a good book and start working on the ultimate tan. Others like to stir things up with parasailing, kayaking and excursions to nearby islands. If you're staying close to shore, a flood of beach equipment rentals will be on hand – beach bikes, buggies, beach wheelchairs, paddle boards, surf and skim boards and all kinds of flotation devices. Many companies offer delivery and pick-up service.
Beach Safety Tips
You can get too much of a good thing, so don't forget the sunscreen before venturing out in the warm Alabama sunshine.
Take care when exploring the sand. You might happen upon a sea turtle nest or a tiny bird's nest.
Keep off the dunes, dude. They preserve natural habitats. Beach boardwalks and walkovers are plentiful and will get you to the shore.
Take nothing but pictures and leave only footprints. Clean up after yourself and don't forget your beach chairs and towels.
Observe and obey the Beach Warning Flag System 
Alabama's Instagrammable Moments